Paul Klee
Born – 18 December 1879, Münchenbuchsee, Switzerland
Died – 29 June, 1940, Muralto, Switzerland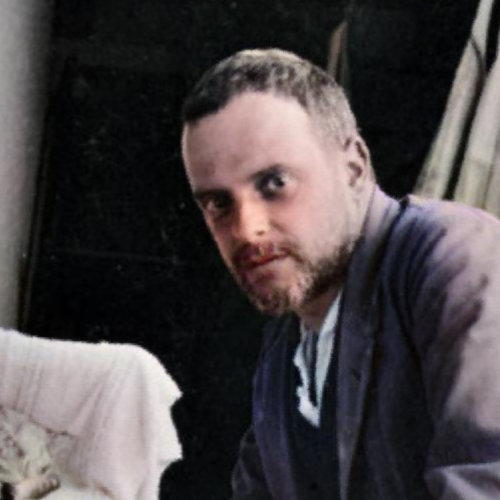 Paul Klee
Born – 18 December 1879, Münchenbuchsee, Switzerland
Died – 29 June, 1940, Muralto, Switzerland
Paul Klee was a Swiss artist whose highly individual style and philosophy was influenced by movements in art that included expressionism, cubism, and surrealism. He was an influential teacher at the Bauhaus.
Early Life
The artist Paul Klee was born on the 18th of December 1879 in Muchenbuchsee, near Bern in Switzerland. His father, Hans Klee, was German and a music teacher at the Bern State Seminary in Hofwil near Bern. His mother Ida Maria Frick was Swiss and a professional singer. He also had an elder sister called Matilda. Encouraged by his parents, he started violin classes at age seven at the Municipal Music School where he proved himself to be a very talented musician who at the age of 11, received an invitation to play as an extraordinary member of the Bern Music Association.
Not surprisingly, his other hobbies of drawing and writing poems, were not avidly encouraged. When he was not writing or reading literature, he would be constantly drawing caricatures in his schoolbooks. These early sketches demonstrated that even at a young age he had an innate understanding of the use of line, shape and volume.
When he left school, the "Gymnasium" in Bern, he barely passed his final examinations qualifying only in the Humanities. With his characteristic dry wit, he wrote in his diary, "After all, it's rather difficult to achieve the exact minimum, and it involves risks."
Art School
In 1898, with his parents' reluctant permission, he moved to Munich to study art at the Academy of Fine Arts with Heinrich Knirr and Franz von Stuck. Although Paul Klee excelled at drawing, at this time, he seemed to lack any natural colour sense and feared that he would never learn to paint. But student days proved a great distraction, Klee spent a lot of time in pubs and had numerous affairs, one of which resulted in the birth of a son who, in 1900 unfortunately died a few weeks after birth.
Visits Abroad
In March 1901 Paul Klee left the Academy and before leaving for Italy with his friend Herman Haller in October, he secretly got engaged to Lily Stumpf, who he had met at a musical soirée. The beauty of the art of ancient Rome and the Renaissance led him to question the imitative styles of his teachers and of his own work. So, he began to explore his undisputed talent for caricature.
His first important works, a series of etchings, called 'Inventions' were undertaken between 1903–1905 after his return from Italy. They are drawn using a tight technique inspired by Renaissance prints, and explore the grotesque allegories of social pretension, artistic triumph and failure, and the nature and perils of woman.
Works on Glass
Living with his parents in Bern, this was a period in which he created 57 works using the highly experimental technique of drawing with a needle on a blackened pane of glass. This technique can be seen in 'Portrait of my Father' completed in 1906. During this time he occasionally played in the Bern symphony orchestra and wrote a number of theatre reviews.
Visit to Paris
In June 1905 he visited Paris where he saw Impressionist paintings and the work of van Gogh, Cezanne and the Belgian artist, James Ensor. He saw little of the latest in modern art, but he found the freedom of expression he saw in post-Impressionist art very liberating. This, together with his interest in the expressive possibilities of children's drawings suggested new avenues to explore.
On 15th of September 1906 Paul Klee and Lily Stumpf were married. In 1907 their son Felix was born and Klee's attempt to become a magazine illustrator failed. For the next few years Klee's art progressed very slowly, because of dividing his time between housekeeping, and developing a new approach to his art.
In January 1911 Paul Klee met Alfred Kubin and they became friends. Kubin was a graphic artist who encouraged Klee to illustrate Voltaire's Candide which Klee had read some years earlier. In these drawings Klee finally achieved the style he had been striving for.
Later in September he met August Macke and Wassily Kandinsky and others of the New Munich Society of Artists. But it was Klee's friendship with Franz Marc that proved crucial. It was Marc that showed Klee how far abstraction and a visionary approach to content could be taken.
In 1912, 17 of Paul Klee's pictures were shown at the second Der Blaue Reiter exhibition at the Goltz gallery in Munich. In April 1912 Paul Klee and Lily visited Paris where they met Robert Delaunay and saw paintings by Pablo Picasso, Henri Matisse, and Maurice de Vlaminck. Their use of bold colour inspired him, but rather than copy these artists, Paul Klee began working out his own colour experiments using pale watercolour.
But other elements were coming together in Paul Klee's work. He combined Cubist ideas with children's art because both, he believed, returned art to its basics: children's art by its direct and naïve renderings, and Cubism by its timeless geometry. Klee managed to get these seemingly contradictory qualities to work together because of his meticulous approach to composition and later by the beauty of his colour.
World War 1
In 1914 he visited Tunisia with Louis Moilliet and August Macke. It was in Hammamet that Klee claimed in his diary that his breakthrough to painting in colour had occurred. 'Colour and I are one.'
Paul Klee expected to be called up, but he wasn't conscripted until 1916. Luckily, he was spared the horror of the frontline by legislation exempting artists from combat. So, he remained in Bavaria, painting camouflage on airplanes, working as a clerk and creating his own artwork.
Many of the pictures Klee created during the war years were romantic, innocent landscapes and abstracts, where war appears only indirectly as images of demons or conflicts, nevertheless the charm of these images proved popular with the public. Unfortunately, both his friends, August Macke and Franz Marc died in the fighting and as a result Paul Klee created several pen and ink lithographs on war themes including this, the Death of the Idea.
The Bauhaus Calls
Late in 1918 Paul Klee was discharged from the army and returned to Munich. In May 1920 Hans Goltz organised a large retrospective exhibition of 362 Paul Klee paintings in his Munich gallery. This was Klee's breakthrough, but despite a guaranteed annual income, he felt it too risky to rely on just selling paintings. So, he accepted an offer to teach at the Bauhaus in Weimar, Germany. He was appointed by Walter Gropius, the founder of the Bauhaus, to work as a 'Form Master' to lecture in the basic design program on the mechanics of art. He also taught workshops in book binding and painting stained glass, but it his series of detailed lectures on visual form that demonstrated what an influential teacher he was. he also worked closely with Wassily Kandinsky.
His lectures at the Bauhaus were recorded in more than 3,300 pages of notes and drawings. In March 1925 the Bauhaus in Weimar closed and later that year moved to Dessau where Klee was appointed Director of free sculpture, painting and artistic design. Later in 1925 Paul Klee's pedagogical sketchbook, based on his visual form lectures, was published as a student Bauhaus manual.
In 1926 Paul Klee took part in the Surrealist's first exhibition in Paris and in 1928 he visited Egypt, but in a letter to Lily he said the country did not have the same impact on him that Tunisia had done.
In March 1930 the Museum of Modern Art in New York, USA presented an exhibition of his work, the institution's first solo show by a living European artist.
After 10 years at the Bauhaus Klee began to find his biweekly lectures, administrative duties, and tensions over policy and politics, increasingly onerous, so in the autumn of 1930 he resigned for the less-demanding job of a professor at the Dusseldorf Academy of Art.
Nazi Pressure
Paul Klee's brief period of calm at the art academy in Düsseldorf ended on 30 January 1933, when Adolf Hitler became Chancellor of Germany. Klee was denounced as a "Galician Jew" and a "cultural Bolshevik," and his work derided as "subversive" and "insane." In March 1933 his house in Dessau was searched by the Gestapo, and in April he was dismissed from his teaching position without warning. Living in Germany became increasingly difficult so towards the end of 1933 Klee and his wife returned to the relative artistic isolation of Switzerland. The disruptions caused by this move, along with his sudden financial uncertainty, took a toll on him.
Switzerland wasn't at the artistic cutting edge and Klee missed not having deadlines, not being part of the vibrant art world, he had been used to in Germany. Even a major exhibition of his works held in the Kunsthalle in Bern in 1935 did little to console him.
Final Years
Later in 1936 Paul Klee was diagnosed with progressive scleroderma, a rare autoimmune disease that hardens the skin and makes mucus membranes dry up. It is usually fatal and Klee felt utterly hopeless, and for over almost a year was almost incapable of working.
But in 1937 there was a temporary remission of his illness which led to a remarkable outpouring of creative energy and a big increase in his output. In April of 1937 17 paintings by Paul Klee were shown at the infamous exhibition of Degenerate Art in Munich. The Nazi's defined degenerate art as being riddled with "decadence", "weakness of character", "mental disease", and "racial impurity. The Nazi's also confiscated over 100 of his works from public collections in Germany.
Paul Klee's late paintings and drawings are strongly influenced by the harsh distortions of Pablo Picasso's work of the 1920s and '30s. Klee displayed remarkable resilience and stoic acceptance of his approaching death, but as his health declined Picasso's ideas gave him a means of expressing the urgency he felt about his own grief and pain.
Paul Klee died as a German citizen in hospital in Locarno, Switzerland 29th of June 1940. Despite being born in Switzerland, under Swiss law Klee was classed as a German citizen because his father was German. Unfortunately, his wish to be granted Swiss citizenship failed because the final approval meeting was not due to be heard until a few days after he died.
Paul Klee paintings can be seen at the Zentrum Paul Klee Museum which opened 2005 in Bern Switzerland as an independent institution and research centre containing around 40% of Paul Klee's entire output.
Best Auction Price
The best price paid of a painting by Paul Klee was £4,185,250 for 'Tänzerin', sold at Christie's, London in 2011.