Henri Matisse
Born: 31 December, 1869, Le Cateau-Cambrésis, France

Died – 3 November, 1954, Nice, France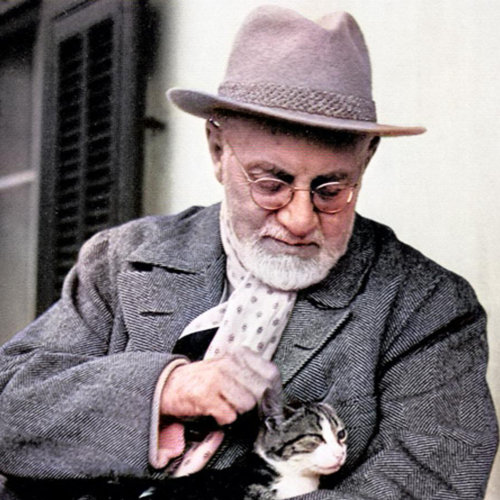 Henri Matisse
Born: 31 December, 1869, Le Cateau-Cambrésis, France
Died – 3 November, 1954, Nice, France
Henri Émile Benoît Matisse was a French painter, known for both his use of colour and his fluid and original draughtsmanship. He was also a printmaker, and sculptor. Henri Matisse paintings can be seen in many art galleries around the world. He was a founder member of the Fauvism movement.
Biography
Henri Matisse was a French artist born on 31 December, 1869, in Le Cateau-Cambrésis, in northern France. He was the oldest son of a grain merchant and grew up in a modest environment. From a young age, Matisse showed an interest in art and initially studied law, but later abandoned his studies to pursue a career in painting.
In 1891, Matisse moved to Paris to study art at the Académie Julian, where he met fellow artists André Derain and Maurice de Vlaminck, with whom he later became associated with in the Fauvism movement. Fauvism was a style characterized by bold colours and simplified forms, which Matisse and his contemporaries used to express emotions and capture the essence of the natural world.
Throughout his career, Matisse experimented with different styles and techniques, constantly pushing the boundaries of what was considered acceptable in the art world. He was influenced by the works of Paul Cézanne, Vincent van Gogh, and Paul Gauguin, and was also inspired by traditional Islamic art, which he discovered during a trip to North Africa.
Matisse's early works were mostly landscapes and still life's, but he quickly moved on to more abstract compositions. In 1905, he exhibited his painting "Woman with a Hat" at the Salon d'Automne in Paris, which caused a sensation and was widely criticized for its bold, non-naturalistic use of colour.
Despite the controversy surrounding his work, Matisse continued to produce innovative art throughout his life. He experimented with various mediums, including sculpture, and became known for his use of paper cutouts, which he used to create colourful, geometric designs.
In addition to his artistic achievements, Matisse was also known for his philanthropy. He established a foundation in his hometown of Le Cateau-Cambrésis, which is now home to the Musée Matisse, a museum dedicated to his life and work.
Matisse passed away on November 3, 1954, at the age of 84, in Nice, France. He left behind a legacy as one of the most influential artists of the 20th century, whose work continues to inspire and influence artists to this day.
Best Auction Price
The best price paid for a painting by Henri Matisse was $80,800,000 for his 'Odalisque couchée aux Magnolias (1923)', sold at Christie's, New York.