Paul Cézanne
Born – 19 January, 1839, Aix-en-Provence, France

Died – 22 October, 1906, Aix-en-Provence, France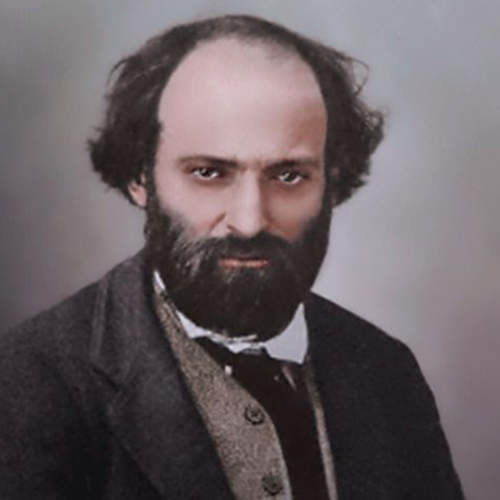 Paul Cézanne
Born – 19 January, 1839, Aix-en-Provence, France
Died – 22 October, 1906, Aix-en-Provence, France
Paul Cézanne was one of the great Post-Impressionist painters, whose works and ideas strongly influenced the development of many 20th-century artists and art movements, especially Cubism.
Early Life
Paul Cézanne, the great Post Impressionist artist was a stubborn man who refused to compromise or make any form of concession to society, or to art for that matter. This often made him appear a strange and eccentric figure. He lived for his painting, it was his only passion in life, friends and family took second place and as he grew older and more insular, he was often referred to as the Hermit of Aix en Provence.
Paul Cézanne was born on the 19th of January 1839 in Aix en Provence in France, the eldest of three children. His father exported felt hats and his mother was the daughter of a wood turner from Marseille. At the age of 13, in 1852, Cézanne attended the Humanist College in Aix, the College Bourbon, where he became good friends with Jean Baptiste Baille and Emile Zola, who'd later earn fame as a writer.
Cézanne's father was an authoritarian figure, unlike his son, who was indecisive and lacked self-confidence. As a consequence, Cézanne followed his father's wishes and began a law course at Aix University in 1859. But Cézanne also attended evening classes at the drawing school in Aix and won a second prize for figure painting. Meanwhile, his father bought the Jas de Bouffan estate near Aix, the former summer residence of the governor of Provence. But Cézanne found living at home intolerable and he became increasingly withdrawn. Eventually, in 1861, his father allowed him to leave Aix en Provence and travel to Paris where he met up with his friend Emile Zola.
Cézanne moves to Paris
Paul Cézanne studied life drawing at the Academy Suisse where he met Camille Pissarro who eventually became his mentor. He painted a portrait of Emile Zola, but he didn't finish it. He became increasingly despondent at his lack of success and soon returned to Aix-en-Provence.
Reluctantly, he took a job at his father's bank, but the following year he managed to persuade his father to let him leave the bank, and give him an allowance of 125 Francs a month so he could setup a studio at home. Harmony did not last long and by November 1862 he was back in Paris.
During 1863 and 1864 Cézanne worked regularly at the Academy Suisse in Paris where he met Renoir, Monet and Sisley. He applied to the prestigious Ecole des Beaux Art, but was rejected. But that did not stop him exhibiting at the Salon des Refuses with Manet and Pissarro, unfortunately, his paintings were described as looking as though the paint had be flung at the canvas.
Rejection and Relationships
The following year he entered paintings for the Salon, but they were rejected. Downcast, he again returned to Aix-en-Provence and began painting outside for the first time. In 1869 he met Hortense Fiquet, a 19-year old bookbinder, who became his lover. When the Franco-Prussian war broke out in 1870, Cézanne decided to spend the time with Hortense in L'Estaque in southern France. Despite his relationship, which he kept secret from his father for the next 8 years, he felt lonely. He was shy around women and panic-stricken at the very thought of physical contact.
In 1872 Cézanne's son Paul was born and the family moved to Auver sur Oise. He worked closely with his friend and mentor Camille Pissarro. Pissarro, who was 9 years his elder. He was sympathetic, tolerant and a born teacher, almost like a surrogate father.
Pissarro's Advise
Pissarro advised him to remove dark colours from his palette and not to paint with black. Cézanne took his advice and the creation of his dark expressive, intuitive paintings came to an end. In 1873 he met Dr Gachet who would, years later, look after Van Gogh. Cézanne painted in Dr Gachet's house and there met the art dealer Julian Tanguy who allowed him to exchange his pictures for paint.
The first exhibition of the Impressionists was held at the photographer Nadar's studio in 1874, Cézanne showed three paintings. Claude Monet was not impressed and described Cézanne, 'as a bricklayer who paints with a trowel'. Despite the criticism, Cézanne sold a painting for 300 francs.
1875 brought another rejection by the Salon, but through Renoir, Cézanne met the art lover Victor Chocquet, who became one of his most enthusiastic collectors. Two years later he showed 16 paintings at the third Impressionist exhibition, but after a hail of criticism decided not show with the Impressionists again. Between 1879 and 1885 he tried many more times to enter work for the Salon, but apart from one success, all ended in rejection. Finally, he admitted defeat.
In 1886 his friendship with Emile Zola came to an abrupt end after Zola published his novel 'The Masterpiece' about a failed artist. Cézanne was angry, as he thought the story was partly based on him. Later that year he married Hortense, shortly before he inherited the house at Jas de Bouffan and a considerable fortune, following the death of his father.
Cézanne rejects Impressionism
Cézanne rejected the Impressionist theories of light, he wasn't interested in momentary light effects and reflections, they were of secondary importance to him. He once wrote, 'you must think that the eye is not enough, it needs to think as well'. Paul Cezanne often spent months on a painting, sitting with stubborn determination in front of his subject contemplating nature and trying to understand the essence of it. He applied paint in a series of discrete, methodical brushstrokes, as though "constructing" a picture rather than "painting" it. If he couldn't achieve the exact colour balance he sought, he simply abandoned the painting where he stood, or destroyed it in a fit of fury.
Approaching Old Age
Cézanne showed three paintings at The 20 exhibition in Brussels in 1890, but later that year was diagnosed with diabetes. As he grew older and more isolated, he increasingly retreated into the solitude of Jas de Bouffan where he could paint undisturbed.
He did, however, paint people. His models tended to be male and cheap to hire, such as farmers and labourers. He wasn't interested in their personalities, or their emotions, he was simply interested in the composition, the structure of the painting and the careful balance between colours and forms.
1895 saw his first one-man exhibition at the Gallery of the Paris art dealer Ambroise Vollard. Two years later his mother died and Jas de Bouffan was surprisingly sold. Cézanne moved into an apartment in Aix-en-Provence and employed a housekeeper.
The National Gallery in Berlin became the first Gallery to buy one of Cézanne's paintings in 1897. From then on, apart from a few relatively short visits to Paris, Cézanne spent most of his time in Aix en Provence painting his beloved mountain, Mont Sainte – Victoire.
Cézanne's Final Years
In 1902 he bought a plot of land at Chemin des Lauves and built a studio house. The following year Emile Zola died and his art collection was auctioned, interestingly, the works by Cézanne sold for an average of 1500 Francs each.
In 1904, he decided on one last great project based on an idea that first appeared at the beginning of his career, namely semi-abstract figures in a landscape. The Bathers as they were called, included figures taken from numerous sources, life drawings done many years earlier at the Academy Suisse, sketches made from illustrations in his sister's fashion magazines and most importantly, from pencil sketches he'd made in the Louvre. He didn't use live nude models.
The summer 1906 was stiflingly hot, Cézanne found it intolerable. That autumn, whilst painting outside, he was caught in a torrential storm. A week later on the 22nd of October he died of pneumonia and was buried at the San Pierre cemetery in Aix en Provence.