Marc Chagall
Born – 6 July 1887, Liozna, near Vitebsk, Russian Empire

Died – 28 March, 1985, Saint-Paul-de-Vence, France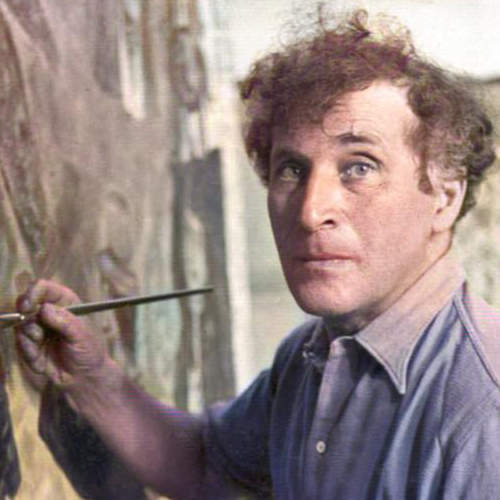 Marc Chagall
Born – 6 July 1887, Liozna, near Vitebsk, Russian Empire
Died – 28 March, 1985, Saint-Paul-de-Vence, France
Marc Chagall composed his images based on emotional and poetic associations, rather than on rules of pictorial logic. His early works, were among the first expressions of psychic reality in modern art. He also created stage sets, and illustrated the Bible in etchings and stained-glass.
Early Life
Marc Chagall, an orthodox Jew, was born in Vitebsk, Russia on the 7th of July 1887 as Moshe Segal. He was the eldest of 9 children. His father worked for a fish merchant; his mother ran a grocery shop. At the age of 18 Chagall started at the art school of the painter Yehuda Pen. He later left after 2 months to work as a re-toucher for a Vitebsk photographer.
In 1909 he studied with Leon Bakst – the Russian painter, who revolutionised theatrical costume and set design. Bakst introduced Chagall to modern approaches of artistic expression. Crucially, he taught him to use colour as a basic element of his work. In 1910 Marc Chagall moved to Paris, where he changed his name to the more French sounding Marc Chagall. In 1911 moved into his own studio in La Ruche, the legendary Parisian artist colony. He also met Picasso.
First Exhibition
Later in 1914 Chagall held his first one-man exhibition in the Berlin Gallery, Der Sturm. On 25th of July 1915 Chagall married Bella Rosenfelt in Vitebsk. Shortly afterwards they moved to Saint Petersburg, where Chagall worked as a Clerk in the Press Department for the War Economy Office.
By 1919 Marc Chagall had set up the Vitebsk School of Fine Arts with artists Kazimir Malevich and El Lissitzky. But things didn't go well and after numerous arguments about artistic direction, Chagall upped and left. Shortly afterwards, Malevich renamed the Art School the Suprematist Academy. The abstraction of Suprematist did not appeal to Chagall. Two years later, in 1922, he returned to his old studio in la Ruche, but all the paintings he had left before the War had disappeared.
He hated the fact that part of his personal history had gone. For most of the next 3 years he painted replicas and new versions. Chagall's paintings were selling well and he was establishing an international reputation. In 1931 he received an invitation from the mayor of Tel Aviv to spend time in Palestine. Chagall spent 3 months there with his wife and daughter Ida.
Degenerate Art Exhibition
In 1933 a number of Chagall's paintings were publicly burnt by the Nazis outside the Mannheim Art Gallery. In 1937, on the orders of the Nazi regime, all Chagall's works along with works by Paul Klee and others were removed from German museums. Three of these paintings were shown in the notorious Degenerate Art Exhibition alongside other confiscated art works. Shortly after the outbreak of the Second World War, Chagall moved his family to the United States. On the 23rd of June 1941, the same day Germany invaded Russia, Chagall and his family arrived in New York.
In New York Pierre Matisse, the son of artist Henri Matisse, organised Chagall's first exhibition in America. Taking place in November 1941, at the Pierre Matisse Gallery in New York. In 1944 Chagall's wife Bella fell ill with a viral infection. She died just 36 hours after her arrival at hospital. Chagall was heartbroken. In the late 1940's a number of retrospective exhibitions were held of Chagall's work with shows in New York, London, Zurich and Bern in Switzerland. They were all hugely successful. But Chagall longed to return to France, in 1948 he left America for good.
The Move to France
In 1950 he moved to Vence in the South of France and intermittently met up with Matisse and Picasso both of whom had studios nearby. In 1951 he married Valentina Brodsky. Their marriage gave him new energy and in June of that year he visited Chartres Cathedral to study medieval stained-glass window painting. The new medium inspired him and in 1959 he created stained glass windows for the north apse of Metz Cathedral in France. The following year he created windows for the synagogue of the Hebrew University Clinic in Jerusalem. 1964 saw Chagall complete the window of the Good Samaritan for the memorial to John D Rockefeller Junior and the Peace window for the United Nations building in New York.
Chagall travelled to Jerusalem in 1969 to take part in the inauguration of the new building for the Knesset, the Israeli parliament He created the floor and wall mosaics. During 1975 Chagall produced 50 lithographs illustrating Shakespeare's The Tempest and produced several large canvases with mythological biblical themes. Two years later, at the age of 90 Chagall was awarded France's highest honour, the Grand Cross of the Legion of Honour.
Final Years
During the following years Chagall completed stain glassed windows for St. Stephen's Church in Mainz and the American Windows for The Art Institute in Chicago. In 1977 the French president opened an exhibition of Chagall's work in the Louvre in Paris. The first time a living artist had received the honour. Marc Chagall died at his home in St Paul de Vence at the age of 97, on the 28th of March 1985.