Pablo Picasso
Born – 25 October 1881 – Malaga, Spain

Died – 8 April 1973 – Mougins, France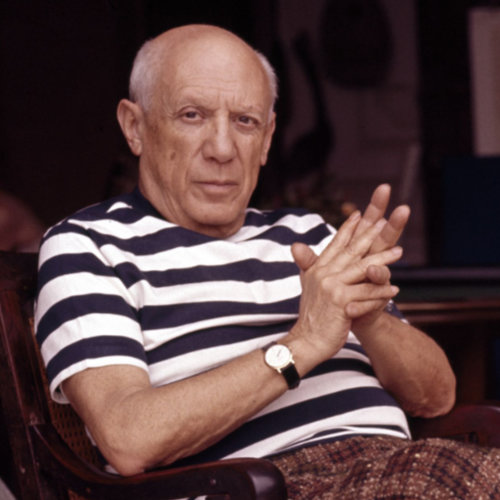 Pablo Picasso
Born – 25 October 1881 – Malaga, Spain
Died – 8 April 1973 – Mougins, France
Pablo Picasso was the co-founder of the Cubist movement and is widely considered one of the most influential artists of the 20th century. Picasso's prolific career spanned over seven decades, during which he produced a vast body of work that includes paintings, sculptures, drawings, and prints.
Picasso's Early Life
Pablo Diego José Francisco de Paula Juan Nepomuceno María de los Remedios Cipriano de la Santísima Trinidad Ruiz y Picasso, known as Pablo Picasso, was born on October 25, 1881, in Malaga, Spain. His father, José Ruiz Blasco, was an artist and art professor, and his mother, Maria Picasso López, came from a family of artists. Please Note, although Pablo Picasso chose to use his mother's surname as his own, this is NOT a usual or common practice in Spain as stated in the above video.
Picasso's childhood was marked by a love for art. He received his first formal training in drawing and painting from his father, who was also his first teacher. His father's influence can be seen in Picasso's early works, which often depicted everyday scenes and landscapes in a realistic style.
An Artistic Prodigy
At the very young age of just 14, Picasso was admitted to the School of Fine Arts in Barcelona, where he studied painting and drawing for the next two years. At the age 16, he entered the Royal Academy of San Fernando in Madrid. He quickly grew disillusioned with traditional art education and began experimenting with his own style, drawing inspiration from the Post-Impressionists amongst other movements.
In 1900, Picasso made his first trip to Paris, where he was saw to the works of artists such as Henri de Toulouse-Lautrec and Edgar Degas. He was also introduced to the vibrant artistic community that was flourishing in the city at the time.
Picasso's Creativity Develops
Picasso's early works were heavily influenced by the Symbolist movement, and he often depicted melancholic and melancholic themes. The Blue period being an example. However, his style soon began to change after he discovered African and Oceanic art during a visit to the Musée d'Ethnographie du Trocadéro in Paris around 1906. These works would have a profound impact on his art, inspiring him to experiment with new forms and techniques.
In 1907, Picasso and Georges Braque co-founded the Cubist movement, which revolutionized the art world by breaking down traditional notions of perspective and representation. The movement emphasized the fragmentation of form and the use of multiple perspectives to create a sense of movement and depth.
Constant Change in Ideas
Throughout his career, Picasso continually experimented with new styles and techniques, from his Blue and Rose periods to his Neoclassical works and his later Surrealist pieces. He was also an accomplished sculptor and potter, and his works in these mediums are considered some of the most innovative of the 20th century.
Picasso's personal life was marked by a series of romantic relationships, many of which were tumultuous and volatile. He was married twice and had numerous affairs with women, some of whom were also artists or models. His relationships with women often inspired his work, and his portraits of his lovers are some of his most famous pieces.
Picasso's Political Activities
In addition to his art, Picasso was known for his political activism. He was, for a time, a member of the Communist Party and was an outspoken advocate for peace. He used his art to raise awareness about political and social issues, including the atrocities of war and the plight of the working class. His painting Guernica which commemorates the bombing of the small town of Guernica by Franco's fascist forces, is probably his greatest work.
Picasso's Legacy
Picasso continued to work well into his old age, and his output was prodigious. He died in 1973 at the age of 91, leaving behind a legacy as one of the most innovative and influential artists of the 20th century. Today, his works can be found in museums and collections around the world, and he remains a beloved but controversial figure in the art world.
Best Auction Price
The best auction price paid for a painting by Pablo Picasso was $106,482,500 for 'Nude, Green Leaves and Bust', painted in a single day in 1932, sold at Christie's New York in 2022.