Georgia O'Keeffe
Born -15 November 1887, Sun Prairie, Wisconsin, USA

Died – 6 March 1986, Santa Fe, New Mexico, USA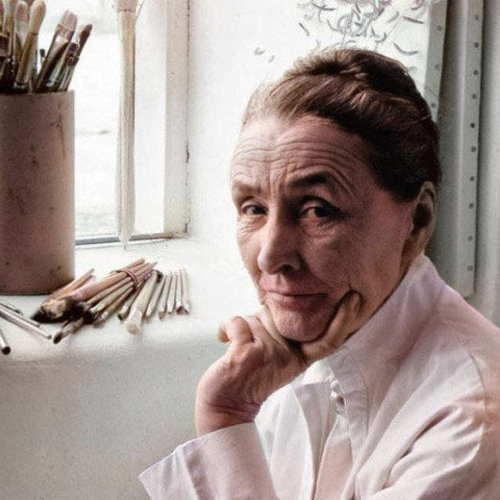 Georgia O'Keeffe
Born -15 November 1887, Sun Prairie, Wisconsin, USA
Died – 6 March 1986, Santa Fe, New Mexico, USA
Georgia O'Keeffe was an American modernist artist best known for her paintings of enlarged flowers, New York skyscrapers, and New Mexico landscapes. One of the founders of modern art in America.
Early Life
Georgia O'Keeffe was born in the American mid-west on the rolling plains of Sun Prairie in Wisconsin. She spent the first twelve years of her life on her parents' farm surrounded by golden fields of corn. It was an isolated existence, which would have a profound effect on her later life and painting. Occasionally, to break the long winters of seclusion, Georgia and her younger sisters were driven into the nearby small town of Sun Prairie to have lessons in painting and Drawing.
Her Art Education
In 1903 the family moved to Williamsburg, Virginia and two years later Georgia enrolled as a student at the Art Institute in Chicago. But at the age of 21 she suffered a severe bout of typhoid fever and had to stay at home for several months. However, in 1907 she continued her studies at the Art Students League in New York, the famous art school. Here, she was encouraged to paint a picture a day and focus on colour and texture. A lot of the teaching was old fashioned, concentrating on copying old masters. It wasn't long before she sought out something more inspiring.
Georgia Meets Alfred Stieglitz
Georgia O'Keeffe was 25 years old in 1908 when she paid her first visit to the 291-gallery in New York, run by the photographer, Alfred Stieglitz. The gallery displayed avant-garde works by Matisse, Cezanne and others. These European artists were mostly unknown at the time to the wider American Public. It was here that she saw drawings by the sculptor Rodin which greatly influenced her own charcoal drawings. Later that year, she won a scholarship for producing the best still life in her class. She didn't pursue it, because she was so short of money. Instead she moved to Chicago to earn a living as commercial artist.
In 1914 Georgia enrolled at the Columbia University Teachers' College in New York. She studied under the inspirational artist and teacher, Arthur Dow. He opened her eyes to abstract forms of expression and in particular, to the work of the Russian artist Wassily Kandinsky. She also joined the National Women's Party and remained a frequent visitor to the latest exhibitions at Stieglitz's 291-gallery. In May 1916 Stieglitz exhibited a series of her charcoal drawings in his gallery. Later that year Georgia moved to Texas, to become the head of the art department at West Texas State National College.
First Exhibitions
In 1917 Alfred Stieglitz organised Georgia's first solo exhibition comprising of charcoal drawings and watercolours at the 291-gallery. Later that year she travelled to Colorado with her sister and on the way back passed through New Mexico. It was here that she first set eyes on the landscape that would fascinate her for the rest of her life. During this time, she often wrote to Alfred Stieglitz and in 1918, with his financial support, decided to move back to New York. She now devoted herself entirely to painting. During the next few years she became increasingly close to Stieglitz. She spent summers at his family property in Lake George. The winters were spent back in New York City in a small studio owned by Stieglitz's sister.
In 1921 51 paintings by Georgia and 61 photographs by Stieglitz, most of which were nude portraits of Georgia herself, were exhibited together at the Anderson galleries in New York. As a result, Georgia found herself thrust into the limelight as Stieglitz's model and muse. She did not like the fact she was not recognised as an artist in her own right. The following a second solo exhibition of Georgia's work was organised by Stieglitz. It was a great success and established her reputation as an unusual and very talented woman. Later, in 1924, Georgia O'Keeffe, aged 37 married Alfred Stieglitz, who was 23 years her senior. Around this time she began to produce the close-up, magnified images of flowers, that became the hall mark of her work.
New Mexico Intrigues Georgia
In 1929 Georgia travelled to New Mexico to paint. This pattern being repeated for the next few summers. The paintings produced during these years explored the landscapes and motifs of the desert. They were exhibited annually at An American Place, Stieglitz's new gallery in New York. In 1932 Georgia had a nervous breakdown and spent some months away from producing art work convalescing in Bermuda. The Metropolitan Museum of Modern Art bought its first Georgia O'Keeffe painting in 1934. During this year, she spent her first summer at Ghost Ranch in New Mexico before, in 1940, buying a house and land in nearby Abiquiu.
Permanent Move to New Mexico
In 1946 the Museum of Modern Art in New York staged a major retrospective exhibition of Georgia O'Keeffe's work. It was the first solo exhibition they had given to a woman. July of that year Alfred Stieglitz suffered a heart attack. Georgia immediately returned to New York, but he died 4 days later aged 82. Later Georgia moved permanently to New Mexico and in 1953, at the age of 66, began to explore the world, making her first trip to Europe, followed by trips to Peru, the far east, India and Japan.
In 1961 at the age of 74, this doggedly determined woman went white water rafting down the Colorado river with a group of friends. At home in Abiquiú, she still painted from 6 o'clock in the morning to 9 o'clock at night. During this time she was elected a member of the prestigious American Academy of Arts and Letters, the Association for outstanding American artists. This added to the many distinctions that she had already received.
Final Years
1970 saw her largest retrospective exhibition to date, at the Whitney Museum of American art in New York. This presented her work to a new, younger generation. Now in her mid-80's, with her eyesight deteriorating, she met a young artist, Juan Hamilton, a potter. For the rest of her life he became her assistant, encouraging her to experiment with clay and to continue to create paintings. Interestingly, many artists sought her advice. Yet Hamilton was the only one with whom she shared her vast experience. In 1986 at the age of 98 Georgia O'Keeffe died.
To paraphrase her friend Ansel Adams, 'She's was a great artist, nobody can look at a painting of her's without being deeply affected, her mystique endures.' She was one of America's foremost women artists.