Stanley Spencer
Born -30 June 1891, Cookham, England
Died – 14 December 1959, Cliveden, England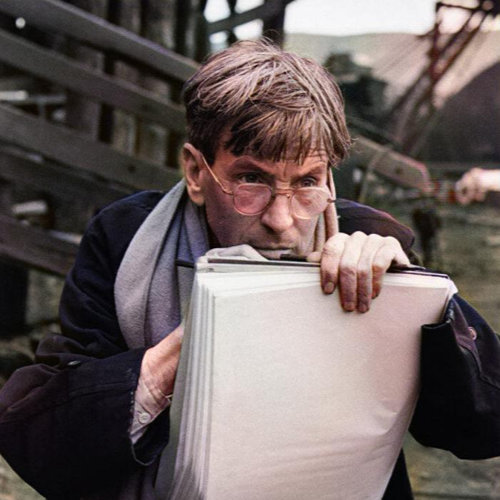 Stanley Spencer
Born -30 June 1891, Cookham, England
Died – 14 December 1959, Cliveden, England
Stanley Spencer was a small man around 5' 2" tall, with an ebullient character. Cookham-on-Thames, England was his world and the source of inspiration for much of art work.
Early Life
Stanley Spencer was born on 30 June 1891 in a semi-detached house in the High Street, of Cookham-on-Thames, Berkshire, England. His grandfather had built the property and several others in Cookham, and his cousins lived next door. The family had lived in the village for generations and Spencer lived there for most of his life. Cookham was his world, his being, the source of inspiration for much of the work that he produced.
Stanley Spencer was a small man around 5' 2" tall, with a wiry build, but he was not to be trifled with. He had bags of energy, an ebullient personality, and was very appreciative. He stood out in a crowd, and was very engaging, but he could be exhausting.
Spencer's Education
He was the tenth child of a family of eleven, two of his siblings died in infancy. His mother Anna looked after the children whilst his father William, an organist, taught music to the many pupils who came to the house. They were a cultured, but not a wealthy family.
Spencer's education was rudimentary. He was home educated by his sisters, Florence and Annie, because his parents had reservations about the local school and could not afford to send him to private school.
Nevertheless, growing up in a family consumed by literature, music, and religion provided a rich environment for his imagination to flourish. This, together with his Methodist upbringing and his spirituality would have a major impact on his painting. He was a solitary teenager often taking long walks filling innumerable sketch books with drawings. A local artist did give him drawing and painting lessons, but his father wanted to develop his skills further, so he approached the local landowner, Lady Boston of Hedsor for advice. In 1907 she arranged for Spencer to go to the Maidenhead Technical Institute. Interestingly, his father agreed, provided Spencer took no examinations.
Art College
In 1908 he was accepted at the prestigious Slade School of Fine Art in London and studied there for 4 years. Amongst his contemporaries was Paul Nash, Marc Gertler and David Bomberg. He was nicknamed, 'Cookham' because he never stopped talking about the village, and for his habit of travelling home from London every day after classes.
It was not long before his work was being appreciated; he won several prizes at the Slade and in 1912 exhibited his painting, 'John Donne arriving in Heaven' plus several drawings in Roger Fry's Second Post-Impressionist Exhibition in London. Later in 1912 he returned to Cookham to paint at his parent's house and began working on the 'Apple Gatherers', which was shown at the Contemporary Art Society the following year.
World War 1
At the start of the first World War in 1914, he wanted to enlist, but his mother persuaded him to apply for ambulance duties. So, in 1915 he joined the Royal Medical Corps. and worked at the Beaufort War Hospital in Bristol, an asylum commandeered by the army to treat wounded soldiers. He found the experience tough. But his outlook was transformed by a chance meeting with Desmond Chute who gave him a copy of St Augustine's Confessions. It taught Spencer to find God and take solace in everyday tasks and routines. This philosophy would go on to inform much of Spencer's work.
In August 1916 he was posted to Salonika then in Macedonia, as part of the 68th Field Ambulancemen. It was here he witnessed the horrific impact of bombardment and machine gun fire. In 1917 Spencer volunteered for the 7th Battalion, The Royal Berkshires infantry regiment. He spent almost 2 years at the front line before being invalided out with persistent bouts of malaria, shortly after his brother Sydney was killed in 1918. The war had an incalculable impact on his life. He wrote his sister Florence, 'When I come home, I'm going to learn Fresco painting – we are going to build a church.'
Early Success
After the war he returned to Cookham where he continued work on "Swan Upping" which he'd started in early 1915, but he found it incredibly difficult to finish.
In 1919 Spencer was asked by the British War Memorials Committee to paint a large painting for a planned Hall of Remembrance, which, was never built. Spencer's response was his famous war painting, 'Travoys arriving with Wounded at a Dressing Station at Smol.'
The painting was begun in 1919 and marks the beginning of a theme that would endure throughout his career, that of finding the spiritual in the everyday.
Spencer's Dream Project
In 1923 Spencer stayed for a short period with the artist Henry Lamb in Dorset where he worked on ideas for his church and war paintings. During this time Lamb invited Louis and Mary Behrend to his house where they saw Spencer's acres of Salonika and the Bristol War Hospital sketches. Although the chapel was supposed to be a memorial to Mary's brother, Lieutenant Henry Sandham, it was very much Spencer's project. The chapel was built in the village of Burghclere in Hampshire, Spencer had wanted it to be in Cookham.
In 1925 he married Hilda Carline who he had met at the Slade in 1919. They had got engaged in 1922, but Spencer had repeatedly postponed the wedding. Their first child, Shirin was born later that year.
In 1927 his painting "The Resurrection, Cookham" was exhibited at the Goupil Gallery, in London to great critical acclaim and later presented to the Tate Gallery. The Spencer's then moved to Burghclere so he could concentrate on his paintings for the Sandham Memorial Chapel.
Sandham Memorial Chapel
Spencer worked on the chapel for 5 years as a way of processing the mental scars left by the horrors of war. The paintings show conflict and injury, as well as the more everyday aspects of warfare; soldiers eating, sleeping and having their injuries tended to. In 1930 his second daughter, Unity was born, and the family moved to Cookham in 1932 into a substantial house called "Lindworth".
Spencer was elected an Associate Member of the Royal Academy of Arts in London in 1932 and also exhibited at the Venice Biennale. Later that year he met Patricia Preece, an aspiring artist who lived in the village with her close friend, another, more talented artist Dorothy Hepworth. Preece seemed very exotic and totally captivated Spencer, modelling for several of his paintings. In return, he took her on shopping trips buying her furs and jewellery.
In 1935 Spencer resigned from the Royal Academy after the hanging Committee rejected his paintings "St. Francis and the Birds" and "The Dustman or the Lovers". His relationship with Preece became more intense and eventually led to divorce.
Second Marriage
Just four days after his divorce from Hilda in 1937 he married Patricia Preece. She was gay, and although they were lovers, they never lived together after the marriage. In fact, Patricia and Dorothy, who Spencer didn't realise were lifelong lovers, left together for the honeymoon in St Ives leaving Spencer in Cookham.
Within days he had seduced his former wife, Hilda and seemed genuinely surprised at her anger when he told her he was going to join Patricia in St Ives. Preece reacted furiously when she found out and consequently the marriage was never consummated. It appears he failed to explain his domestic ambitions to either woman and consequently lost both.
Shortly after the marriage, Spencer signed over the deeds of the Cookham house to Patricia Preece. She then forced him to leave, rented out the property and lived on the proceeds. Within two years Spencer was penniless and living in a bedsit in Swiss Cottage in London. Yet he was convinced he was destined to be with Patricia Preece.
Despite everything, Spencer was very conscious of his family responsibilities, but he completely lacked any ability to manage his own finances. He needed to earn money, so his agent Dudley Tooth persuaded him to paint 'anything that would sell', which was essentially, landscapes and portraits.
World War II
In 1940 not long after the start of the Second World War, he was commissioned by the War Artist's Advisory Committee to paint scenes at the Lithgow shipyard in Glasgow. Spencer was fascinated by what he saw and proposed a scheme involving sixty-four canvases. The Committee agreed to a series of eleven, some of which would be up to six metres long. The War Artist's Advisory Committee obviously held Spencer in high regard, as they paid for all his expenses and materials, and even accepted his refusal to fill-in any forms or sign a contract.
Return to Cookham
In 1945 Spencer moved to Cliveden View in Cookham and began work on his Resurrection paintings. Spencer's original plan was to paint a canvas some fifty feet wide, but soon realised this was impractical. So, he decided to create a series of paintings instead, the largest of which were 6 metres wide. Spencer wanted the entire series displayed together, but each piece was sold to different collectors.
In 1947 The Sandham Memorial Chapel was given to the National Trust by the Behrends family.
He re-joined the Royal Academy later in 1950 and was elected a Royal Academician as well as being awarded the CBE. Later that year, Hilda his first wife died, yet he continued to write to her until his own death. Later in 1955 a major retrospective exhibition of his work was held at the Tate Gallery in London to much acclaim.
Final Years
During the 1950's Spencer could be seen wandering the lanes of Cookham, pushing an old pram in which he carried his canvas and easel. If it was cold, he would wear his pyjamas under his suit. His pram is now a major exhibit in the Stanley Spencer Gallery in Cookham.
Spencer was Knighted by the Queen in 1958, but in December of that year he was diagnosed with cancer. He underwent an operation at the Canadian Red Cross Memorial Hospital on the Cliveden estate in early 1959 and after the operation, stayed with friends in Dewsbury, Yorkshire. There, between 12th and the 16th of July, he painted this final self-portrait.
Later, in 1959 Spencer moved back into his childhood home, Fernlea. But on the 14th December 1959, he died at Canadian War Memorial Hospital. Spencer was cremated and his ashes interred in Cookham churchyard together with those of Hilda his first wife.
Stanley Spencer was a very sociable character whose often labelled as eccentric, in fact Patricia Preece in her diaries, even called him 'mad'. As a character, he was certainly different and unusual. Yet this small man with twinkling eyes and shaggy grey hair was, undoubtedly, one of Britain's greatest artists. Checkout other British artists such as Francis Bacon and L. S. Lowry