Claude Monet
Born – 14 November, 1840, Paris, France
Died – 5 December, 1926, Giverny, France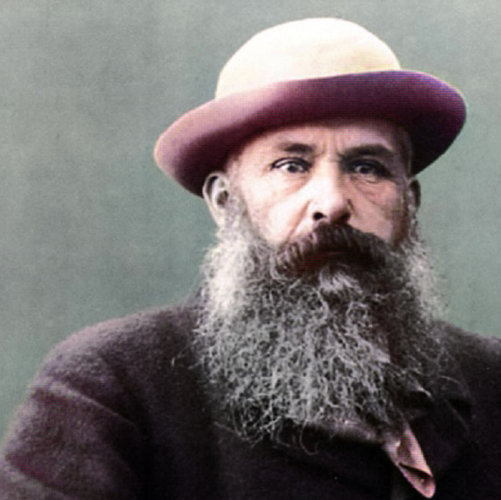 Claude Monet
Born – 14 November, 1840, Paris, France
Died – 5 December, 1926, Giverny, France
Oscar-Claude Monet was a French painter and founder of impressionist painting. He was the most consistent and prolific practitioner of impressionism's philosophy of expressing one's perceptions before nature, especially as applied to plein air (outdoor) landscape painting.
Brief outline of his Life
The French Impressionist artist Claude Monet was born in Paris in 1840 and showed great talent as an artist even when a young child. Eugene Boudin, a local landscape artist, he introduced him to painting outdoors, or plein air painting, which became the cornerstone of Monet's work.
Impressionism gets its Name
In 1872 he painted a picture of Le Havre harbour using very loose brushstrokes. The painting was exhibited at the first Impressionist exhibition in 1874 titled, 'Impression, Sunrise'. The painting was heavily criticised along with others as being just 'impressions' not real paintings – hence the name 'Impressionism'.
Success
Claude Monet became a financial and critical success during the late 1880s and 1890s. Around this time he started painting in series, such as the Haystacks series and the Rouen Cathedral series. He spent his last years painting at his house at Giverny, painting in the gardens and around the lake which was created to his design. His water lily paintings along side his paintings of the Japanese-style bridge over his lake at Giverny are amongst his most famous paintings. In 1918, Claude Monet donated 12 of his waterlily paintings to the nation of France to celebrate the Armistice. Today these paintings are displayed permanently in the Orangerie in Paris.