Claude Monet
Born – 14 November, 1840, Paris, France

Died – 5 December, 1926, Giverny, France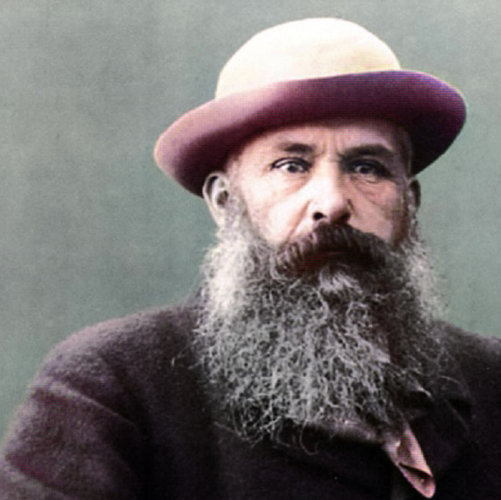 Claude Monet
Born – 14 November, 1840, Paris, France
Died – 5 December, 1926, Giverny, France
Oscar-Claude Monet was a French painter and founder of impressionist painting. He was the most consistent and prolific practitioner of impressionism's philosophy of expressing one's perceptions before nature, especially as applied to plein air (outdoor) landscape painting.
Brief outline of his Life
Claude Monet was a French artist and a leading figure in the Impressionist movement. He was born on 14 November, 1840, in Paris, France. Monet's family moved to Le Havre when he was five years old. There, he developed a love for nature and painting, often spending hours outside with his paintbrush and canvas.
At the age of 15, Monet was sent to Paris to study art. However, he quickly became disillusioned with the traditional art teachings of the time and instead started to experiment with his own techniques. He became fascinated by the effects of light and colour and began to create paintings that captured the fleeting beauty of the world around him.
The Beginnings of Impressionism
In 1861, Monet joined the French army and served for two years in Algeria, during which time he continued to paint and draw. Upon his return to France, he settled in Paris and began to establish himself as an artist. In 1863, he submitted his painting, "Le déjeuner sur l'herbe," to the Salon des Refusés, an exhibition for rejected artists.
In 1870, Monet married his long-time companion, Camille Doncieux, with whom he had two sons. The family moved frequently throughout France, and Monet's paintings began to reflect the landscapes and natural environments of each location. He became increasingly interested in capturing the effects of light and atmosphere on his subjects, and his paintings began to feature vibrant, bright colours and loose brushwork.
First Impressionist Exhibitions
Monet soon formed a group of like-minded artists such as Pierre-Auguste Renoir and Edgar Degas who also wanted to challenge the traditional style of painting. Together they developed a style of painting that became known as Impressionism. In 1874, Monet helped organize their first exhibition, which featured works by himself, Edgar Degas, Pierre-Auguste Renoir, and other artists. The group's name was inspired by Monet's painting "Impression, Sunrise," which was on display at the exhibition,. It caused a scandal due to its loose brushstrokes and vivid use of colour. Later exhibitions of the Impressionists included work by Mary Cassatt and Paul Cezanne.
Although the exhibition was not well-received by critics, it marked the beginning of a new artistic movement that would go on to have a profound influence on modern art.
Throughout his career, Monet painted many landscapes and seascapes, often focusing on the changing light and weather conditions. He spent much of his time painting in the French countryside, particularly in Normandy, where he created his famous series of paintings of water lilies and the Japanese bridge at his home in Giverny.
Best Auction Price
The best price paid of a painting by Claude Monet was $110,700,000 for 'Haystacks 1890-91', sold at Sotheby's New York in 2019.