Mary Cassatt
Born – 22 May 1844 – Allegheny City, Pennsylvania, USA

Died – 14 June 1926 – Le Mesnil-Théribus, France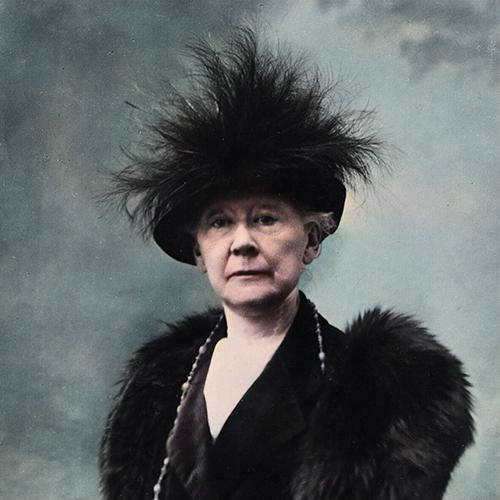 Mary Cassatt
Born – 22 May 1844 – Allegheny City, Pennsylvania, USA
Died – 14 June 1926 – Le Mesnil-Théribus, France
Although Mary Cassatt was American she became one of only two female French Impressionists. She befriended Edgar Degas and exhibited in four of the eight Impressionist exhibitions.
Early Life
Mary Cassatt was born in 1844 in Allegheny City, later part of Pittsburgh, to a comfortably upper-middle-class family. Her father was a successful stockbroker, and her mother belonged to a prosperous banking family. In 1851 Cassatt's parents took her, and her brothers and sisters, to France and Germany. They lived there until 1855 before returning to the United States. Consequently, the children were fluent in both languages.
At the age of 16, in 1860, Cassatt began two years of study at the Pennsylvania Academy of the Fine Arts where only 20% of students were female. She was disillusioned at being patronised by the male students and tutors, and dismayed at the slow pace of instruction. In 1865 disappointed with her art education in the United States, she persuaded her father to let her study art abroad. Despite their initial misgivings, they agreed, and she moved with her mother as chaperone, to Paris. She studied at the studio of Jean-Léon Gérôme. Women were not allowed to attend the prestigious Ecole des Beaux Arts.
Mary Cassatt returned to the United States in 1870 because of the Franco – Prussian war and stayed with her parents. Her father refused to pay for her art materials and frustrated by a lack of artistic resources and opportunities, she travelled briefly Chicago. She lost some of her early works in the Great Fire of Chicago in 1871. In the Autumn of that year, she returned to Paris.
Paris Salon
In 1872 her painting 'Two Women Throwing Flowers During Carnival' was well received at the Paris Salon and was later sold. In 1874 Cassatt set up her own studio in Paris and was joined by her sister Lydia. Paris was experiencing the artistic innovations of Impressionism but her family persuaded her to join the studio of Charles Chaplin, an academic painter. She was miserable there and refused to be subdued by his artistic formulas.
In 1875 she had a painting refused by the Salon and two more refused in 1877. Female artists often had their work dismissed by the conservative French salon. She steadfastly refused to flirt with jurors to curry favour.
Always single-minded and self-reliant, Mary Cassatt concentrated on her painting in a city where, as she later said, "women did not have to fight for recognition if they did serious work."
Joins the Impressionists
In 1877, Cassatt was joined in Paris by her parents and sister Lydia. Later that year the artist Edgar Degas invited her to join the group of independent artists known as the Impressionists, she was delighted. She admired Degas's art, and they soon became close friends. She socialized with other artists in the group particularly Camille Pissarro, Claude Monet and Berthe Morisot, the other female in the group.
For the 1879 Impressionist Exhibition Degas sent in the list of her works together with his own. He taught her to love form and disregard useless detail. Suggesting she adopt the practice of carrying a sketchbook to record what she saw. Degas also advised her to paint portraits.
The fourth Impressionist Exhibition in 1879, her first, was a success. One painting, of her sister 'Lydia in a Loge, wearing a Pearl Necklace' was subsequently sent with other paintings to the third exhibition of the Society of American Artists in New York. Some critics praised her work, but others were far from impressed. Impressionist paintings were rare in America at the time and probably misunderstood. Mary Cassatt continued to exhibit with the Impressionists in their Exhibitions of 1880 and 1881. She remained an active member of the Impressionist circle until around 1886.
Exhibitions in America
She was included in the first major exhibition of Impressionist art in the United States, held in New York. She specialised in scenes of women in domestic interiors, with an Impressionist emphasis on quickly captured moments of contemporary life. Although she did expand her technique from oil painting and drawing to pastels and printmaking. Japanese wood-block prints provided new lessons in composition and the use of black, something the Impressionists disapproved of.
Mary Cassatt herself never married or had children yet by the mid 1880's she was well known for her sensitive depictions of mothers and children. These works, like all her portrayals of women, may have achieved popular success because they filled a societal need to idealize women's domestic roles. This was a time when many women were beginning to take an interest in voting rights, dress reform, higher education, and social equality.
In the summer of 1890, she completed a series of ten colour prints which are among her most original works. When they were exhibited the following year, both Degas and Pissarro were charmed by them.
International Artist
In 1891 a businesswoman Bertha Palmer approached Cassatt about creating a mural entitled, "Modern Woman" for the Women's Building for the World's Columbian Exposition to be held in 1893 in Chicago. Unfortunately, the mural did not survive when the exhibition ended. In 1893 she had an exhibition at Durand-Ruel's gallery in Paris. It was her first comprehensive exhibition and had waited until she was almost fifty years old before making arrangements to hold it.
She had a one man show in New York in 1895, but the attendance was poor and sales few. Cassatt wrote to an American friend stating, "I am very much disappointed that my compatriots have so little liking for any of my work."
She travelled again to America in 1898 and stayed for almost six months, visiting her brother in Philadelphia. After 1900, Cassatt suffered from failing health and deteriorating eyesight. She and Degas suffered a rift in their friendship during the infamous Dreyfus affair of the late 1890s, but they later made amends.
Artistic Rewards
In 1904 Cassatt was recognized for her cultural contributions by the French government, which awarded her the order of Chevalier of the Legion d'honneur.
After the early 1900's an increasing sentimentality is apparent in her work. She was still popular with the public and the critics, but no longer breaking new ground. She was hostile to new developments in art such as Post-Impressionism, Fauvism and Cubism. Yet two of her paintings appeared in the famous Armory Show of 1913, both images of a mother and child.
In 1911, Cassatt travelled to Egypt and was hugely impressed by the art of the Ancient Egyptians. The trip ended tragically when her brother suddenly died. Shattered by the loss she also suffered a crisis of creativity. As a consequence of the two events, she had a complete breakdown and did not work for almost two years.
Mary Cassatt's Sad End
By 1914, due to increasing blindness, Cassatt was forced to stop painting. But in 1915 a rare event took place, a two-artist exhibition featuring a male and female artist, namely Edgar Degas and Mary Cassatt. It took place at the Knoedler & Co. Gallery in New York in support of women's suffrage.
During World War I Cassatt stayed mostly in the south of France at Grasse, because her château in Mesnil-Theribus was in the battle zone. Her close friend Edgar Degas died in 1917. She was now alone. Her final years spent in almost total blindness. She was bitterly unhappy at being robbed of her greatest source of pleasure. She died on 14 June 1926. In 1973, Mary Cassatt was inducted into the National Women's Hall of Fame in New York, USA. She was one of America's foremost women artists.