Tamara de Lempicka
Born -16 May 1898, Warsaw, Poland

Died – 18 March 1980, Cuernavaca, Mexico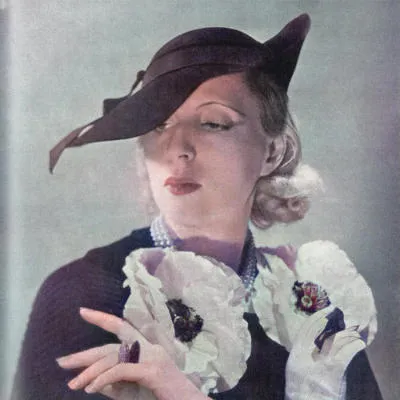 Tamara de Lempicka
Born -16 May 1898, Warsaw, Poland
Died – 18 March 1980, Cuernavaca, Mexico
Tamara de Lempicka was a modern woman, a larger-than-life character, libertine and social climber whose work epitomised the glamourous era of Art Deco during the 1920's and 1930's.
Early Life
Tamara Rozalia Gurwik-Gorska was born in Warsaw, Poland on 16 May 1898. Her father was a Russian-Jewish lawyer, and her mother was a Polish socialite. After her mother and father divorced in 1912 Tamara's wealthy grandmother spoiled her with clothes and travel to the French Riviera and Italy. It was here she saw the art of Italian masters who inspired and greatly influenced her own art.
She was sent to boarding school in Lausanne, Switzerland, but often faked illness to escape, because she hated the place. During the summers she stayed with her Aunt Stephanie in St. Petersburg, whose millionaire banker husband provided Tamara with the experience of a elite luxury lifestyle. Her vision of own future was raised significantly.
Soon after the 1st World War started in 1914 Tamara attended an opera in St Petersburg, where she met the dashing Polish lawyer Tadeusz Lempicki, she was 15 years old. The gregarious and self-confident Tamara had convinced her uncle to make the initial introduction. They subsequently fell in love and married in 1916 in the chapel of the Knights of Malta, in St. Petersburg. Her uncle provided a large dowry.
Escape from Russia
During the Russian revolution in 1917, Tadeusz was arrested in the middle of the night by the Bolshevik secret police. After weeks of trying to locate the prison which held her husband, she exploited her social connections, and his release was finally secured by the Swedish consul who, it was rumoured, she had seduced. Shortly afterwards the couple fled to Paris, where Tamara's family had also found refuge. It was here her remarkable life story really began. A new city, new life and new name, reinventing herself as Tamara de Lempicka.
Refugee
As refugees in Paris in 1918, their financial circumstances were dire. Tadeusz proved unwilling or unable to find suitable work and the birth, in 1919, of their daughter Maria Krystyna, known as "Kizette", added a further financial burden. The young couple moved in with their extended family and lived, for a while, on the proceeds of the sale of family jewels, but Tamara was determined to make her own money.
Her Art Training
She enrolled at the Académie de la Grande Chaumière where she studied diligently. She was taught by the Nabis painter, Maurice Denis and the Cubist André Lhote. Denis encouraged her to look for inspiration in the graphic arts, but it was Lhote who was arguably more influential.
In her first paintings were still life's and portraits of her daughter Kizette and neighbours. She sold her first paintings through the Galerie Colette-Weil, which allowed her to exhibit at the Salon des Indépendents, and at the Salon d'Automne for the first time in 1922.
Tamara's Big Break
Tamara de Lempicka's big break came in 1925, with the International Exhibition of Modern Decorative and Industrial Arts, which later gave its name to the style, Art Deco. Her paintings were spotted by American journalists from Harper's Bazaar and other fashion magazines, and her name soon became widely known. That year she had her first solo exhibition in Milan.
Tamara de Lempicka was well suited to the prosperous golden age of the post-war Paris. She was driven by a passion to ascend the social ladder and was entranced by the bohemian lifestyles of the Parisian avant-garde. She was seen at all the most important social gatherings and mingled with luminaries such as André Gide, Pablo Picasso, Colette, and Jean Cocteau.
Although married with a young daughter, she saw herself as part-free spirit and part-femme fatale. She was bisexual and openly engaged in romantic and sexual involvements with men and women, a good number of whom were her patrons and models. Her affairs often provided the narrative elements of desire and seduction for her portraits and nude studies.
Success
In 1927 de Lempicka received first prize at the Exposition Internationale des Beaux-Arts for her painting, 'Kizette on the Balcony'. This is a striking portrait of her daughter, who she rarely saw. The portrait confirmed de Lempicka's growing reputation, allowing her to command fees of at least 50,000 francs per painting.
Despite her success Tadeusz had grown tired of their open relationship and he abandoned her in 1927. The following year they were divorced.
Two years later, in 1929 de Lempicka met Raoul Kuffner, a Baron of the former Austro-Hungarian Empire and an avid art collector who also owned several large estates in Hungary. Kuffner commissioned de Lempicka to paint a portrait of his Spanish mistress, the dancer, Nana de Herrera. Not long after de Lempicka finished the portrait, she took the place of de Herrera as the Baron's mistress.
In 1929 she painted her iconic work Auto-Portrait, generally known as Tamara de Lempicka's Green Bugatti, for the cover of the German fashion magazine Die Dame. The painting shows de Lempicka at the wheel of a Bugatti racing car, wearing a Bugatti leather helmet, gloves and wrapped in a grey scarf. De Lempicka travelled to the United States for the first time in 1929 to paint a commissioned portrait for Rufus Bush. She also arranged a show of her work at the Carnegie Institute in Pittsburgh, Pennsylvania. The show was well received, but the money she earned was lost when the bank she had used collapsed due to the Wall Street Crash in the Autumn of that year.
Later in 1929, one of de Lempicka's most avid collectors Dr. Pierre Boucard commissioned a portrait of himself. De Lempicka's heavy workload and frenetic social life continued throughout the next decade. Whilst the Great Depression of the early 30's had a devastating effect on millions of people around the world, it had little impact on her. Museums were beginning to collect her works and she was busy painting the likes of King Alfonso XIII of Spain and Queen Elizabeth of Greece.
Escape from the Nazis
In 1933 she travelled to Chicago where her paintings were shown alongside those of Georgia O'Keeffe and Willem de Kooning at the World's Fair. Later that year the wife of Baron Kuffner died and on 3 February 1934 in Zurich, Tamara de Lempicka married Baron Kuffner. Having acquired the title 'Baroness' she was instantly catapulted back into the high society she craved and she left behind the quasi-bohemian lifestyle of the previous years. But the Nazis had come to power in Germany, dark forces were gathering in Europe, but luckily Tamara was astute enough to see the impending threat. Using all her persuasive charms she convinced her husband to sell his estates in Hungary and Eastern Europe and move his fortune to Switzerland.
The Move to Hollywood
In 1939, when war seemed inevitable, the couple left Paris and moved to Hollywood, California. They lived in the former house of the well-known film director, King Vidor. De lempicka adopted the manner and style of Greta Garbo and often visited Hollywood stars such as Tyrone Power, Walter Pidgeon, and George Sanders. They in turn visited her studio and it wasn't long before many Hollywood stars adopted her as their favourite artist, referring to her as 'the baroness with a brush'.
When America entered the 2nd World War in 1941 de Lempicka busied herself with war relief and after a major struggle, in which she had to call in several favours, she managed to rescue her daughter Kizette from Nazi-occupied Paris.
In 1943 de Lempicka and her husband moved to New York City, where they socialized much as they had always done. De Lempicka's output reduced during this time compared to her prolific output in Paris. But by the mid-1940s, her distinctive style had become passe and fewer commissions for society portraits were forthcoming. Post war modernism and abstract expressionism were exciting collectors, not her rather dated art deco style.
The Gradual Decline
Ever determined, she decided to expand her subject matter to include still lives and abstract works. In 1960 she began to use a palette knife instead of her smooth earlier brushwork, in a desperate attempt to remain more in-step with current artistic trends, but it didn't work.
In November 1961 Baron Kuffner died of a heart attack. The following year she held an exhibition of her work in Paris, but it was poorly received, so she decided not to exhibit her work again and embarked on three, around-the-world cruises. Later, in 1963 she moved to Houston, Texas to be closer to her daughter Kizette. The years that followed were difficult and disagreeable. Kizette became her mother's business manager, social secretary, and problem solver, but she was ground down by her mother's controlling domination and petulant behaviour.
In 1966 the Museum of Decorative Arts mounted a commemorative exhibition in Paris called 'The 25 Years'. Its success revived interest in Art Deco and inspired Alain Blondel to open the Galerie du Luxembourg and launch a major retrospective of Tamara de Lempicka's work. It was successful and prompted an offer of an exhibition at the Knoedler Gallery in New York City. But de Lempicka, ever controlling, made so many excessive demands that the offer was eventually withdrawn.
The Final Years
Her previous success eluded her – the artistry and craftsmanship of her glory days were gone to be replaced by excuses. She complained that paints and artists' materials were inferior to the "old days", and that people in the 1970's lacked the special qualities and "breeding" that had inspired her art in the 20's.
In 1978 Tamara de Lempicka moved to Cuernavaca. She despaired of growing old, mourned the loss of her beauty and despite seeking out the company of young people, her last days became a mixture of paranoia and obsessive control. Tamara de Lempicka died in her sleep on 18 March 1980 in Cuernavaca, Mexico with her daughter Kizette at her side. She was cremated and at her request, her ashes scattered on the top of the volcano Popocatepetl.