M. F. Husain
Born – 17 September, 1915; Pandharpur, Maharashtra, India

Died – 9 June, London, 2011, England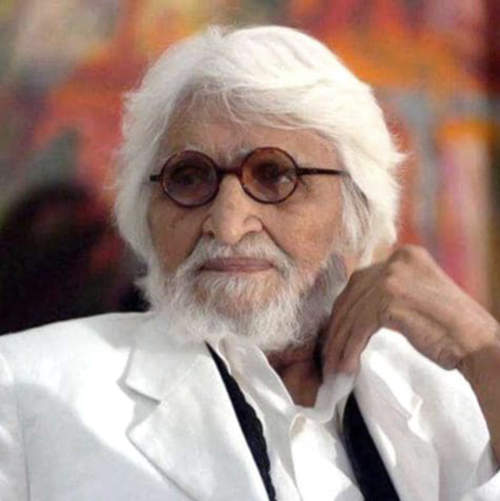 M.F. Husain
Born – 17 September, 1915; Pandharpur, Maharashtra, India
Died – 9 June 9, London, England
Maqbool Fida Husain was one of the most famous artists of India and was successful all over the world. The popularity of his paintings prompted Forbes magazine to call him the 'Picasso of India'.
Early Life
Indian artist Maqboul Fida Hussain was born on the 17th of September 1915, although some records suggest it was 1913 in Pandharpur in Maharashtra in India. M. F. Husain lost his mother when he was a young boy. Subsequently his paternal grandmother looked after him. Later, he was sent to live with his maternal grandfather at Siddhpur in Gujarat. Here Husain learnt to read Urdu and became fascinated with the geometric forms of Kufic Calligraphy. This sparked his interest in drawing.
At the age of 20 he went to Bombay, now known as Mumbai, and studied at the Sir J. J. School of Art. In 1937 he decided to become an artist and concentrate on painting. Times were hard and he lived in a cheap room in a slum area of Bombay supporting himself with lots of odd jobs. He painted billboards promoting Bollywood Films. Designed nursery furniture, cots and rocking horses and painted them with wonderful coloured designs. When he could afford it he would travel to the countryside and paint landscapes.
Early Career
His break came in the late 1940's when he won a prize at the Annual exhibition of Bombay Art Society. This brought his work to the attention of the influential Indian artist Francis Newton Souza. In 1947 Souza invited Husain to become a founder member of the Bombay Progressive Artist's Group. The group was formed just 4 months after Indian Independence amid the turmoil of partition of India into two countries, India and Pakistan.
The group's manifesto stated their intention to "paint with absolute freedom of content and technique." It was almost anarchic in some ways. They wanted to create a new Indian avant-garde to take Indian inspired art to the rest of the world. During this time M. F. Husain's reputation grew and he held his first solo exhibition outside of India in 1952 in Zurich, Switzerland. Later, in 1964 he held his first exhibition the United States in India House in New York.
The majority of his painting were created in a modified Cubist style, usually sarcastic and funny as well as being serious and sombre. He often painted a series of paintings around a single topic. Themes as diverse as Mahatma Gandhi, Mother Teresa, the Ramayana, one of the two epic poems of India, the British Raj, and Indian urban and rural life. His great love though was for horses, their free spirit and lively inspired him and formed the basis of many paintings.
Recognition and Fame
During the early part of his career, M. F. Husain enjoyed great fame and respect both in India and other parts of the world. In 1971 he was a specially invited, along with Pablo Picasso, to the Sao Paulo Biennial in Brazil. Later in 1973, he was awarded The Padma Bhushan, the third-highest civilian award in India for distinguished service of a high order. In 1991 he received the Padma Vibhushan, which is the second-highest civilian award awarded for exceptional and distinguished service.
Controversy
But the latter part of his career was mired in controversy. M. F. Husain was a secular Muslim and in 1996, a Hindi monthly magazine published an article headlined "M. F. Husain: A Painter or Butcher". The article included a number of his controversial paintings produced in the 1970s, which depicted Hindu goddesses as nudes. As a result, eight criminal complaints were filed against him. Although these were dismissed by the Indian High Court in 2004 it did not stop his house being attacked and his 2006 exhibition in London, being closed after two men attacked his paintings.
Also in February 2006 India Today, a national English weekly published an advertisement entitled "Art For Mission Kashmir, the advert contained and image of Husain's painting of Mother India as a nude woman, posed across a map of India. Subsequently, the painting itself was withdrawn from auction and death threats followed, so he decided to leave India. He moved to Doha, Qatar where he would live during the winter, spending summers in London. He did this for the rest of his life often expressing a strong desire to return to India but never quite achieving it.
M. F. Husain – Final Years
Whilst in Qatar he was commissioned by Qatar's first lady, to paint the History of Arab civilisation and in 2008 to produce 32 paintings depicting the History of India. Unfortunately, he only completed 8 of the paintings before he died on the 9th June 2011 in London. He was 95 years old and is buried in Brookwood Cemetery in Surrey, England. Known throughout his life simply as MF Hussain, he is often referred to as the 'Picasso of India' and despite the controversy he regarded as one of the most celebrated and internationally recognised Indian artists of the 20th century.