Andy Warhol
Born – 6 August 1928, Pittsburgh, Pennsylvania, USA

Died – 22 February 1987, New York, USA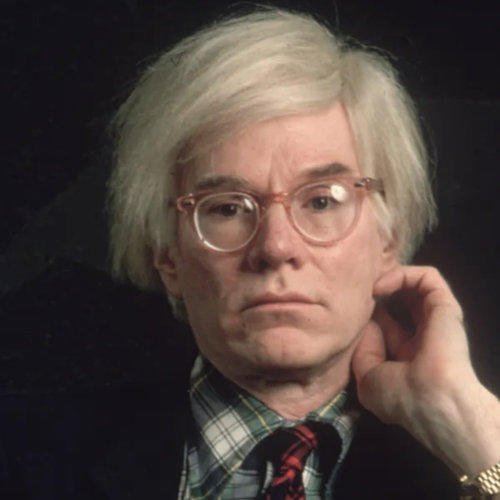 Andy Warhol
Born – 6 August 1928, Pittsburgh, Pennsylvania, USA
Died – 22 February 1987, New York, USA
Andy Warhol was an American visual artist, film director, and producer who was a leading figure in the Pop Art movement. Famous for his portraits of Hollywood stars such as Marilyn Monroe and Elvis.
Andy Warhol Biography
Andy Warhol (1928-1987) was an American artist, filmmaker, and producer who played a prominent role in the Pop Art movement of the 1960s. He was born in Pittsburgh, Pennsylvania, to Slovakian immigrants and grew up in a working-class family. Warhol showed an early interest in art and attended the Carnegie Mellon University before moving to New York in 1949.
In New York, Warhol started his career as a commercial artist, creating illustrations and advertisements for various magazines and clients. He gained recognition for his unique and experimental approach to graphic design, which often involved using vibrant colours and unconventional techniques.
1960's New York
In the early 1960s, Warhol began to shift his focus to fine art and started producing his iconic series of silkscreened images, which featured everyday objects such as Campbell's soup cans, Coca-Cola bottles, and celebrities like Marilyn Monroe and Elvis Presley. These works challenged traditional notions of art and elevated ordinary objects and mass-produced imagery to the realm of high art.
Warhol's work also reflected the cultural and social changes of the 1960s, such as the rise of consumer culture and the celebrity obsession that came with it. He became known for his eccentric personality and his ability to blur the line between art and commerce.
In addition to his visual art, Warhol also experimented with filmmaking, producing over 60 films throughout his career. His films often focused on mundane and banal aspects of life, and featured non-linear narratives and experimental techniques.
Andy Warhol's Legacy
Throughout his career, Warhol remained a controversial figure, and his work provoked both admiration and criticism from the art world and the public. His legacy, however, continues to influence contemporary art and popular culture.
Warhol died in 1987 at the age of 58, following complications from gallbladder surgery. Despite his relatively short career, his impact on the art world and popular culture cannot be overstated, and his work remains an enduring symbol of the 1960s and the cultural upheaval of that decade.
Explore the controversial painting of Francis Bacon