Amedeo Modigliani
Born – 12 July 1844 – Livorno, Italy

Died – 24 January 1926 – Paris, France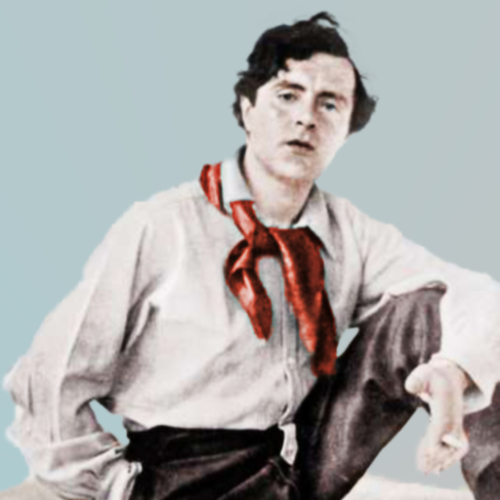 Amedeo Modigliani
Born – 12 July 1844 – Livorno, Italy Died – 24 January 1926 – Paris, France
Amedeo Modigliani was an Italian painter and sculptor who worked mainly in France. He is best known for his portraits and nudes  characterized by a surreal elongation of faces, necks and figures. His work was not well received during his lifetime, but later became much sought-after.
Early Life
Amedeo Clemente Modigliani was born on the 12th of July 1884 in the Italian port of Livorno. Both Modigliani's parents were Sephardic Jews. Rumour had it that his family were once bankers to the Popes and his mother was descended from the great philosopher Spinoza. Whether these family legends were true is debatable, but that did not stop Modigliani propagating them.
Modigliani's father Flaminio was a wealthy young mining engineer but unfortunately, the economic depression of 1883, the year before Modigliani was born, spiralled the family into bankruptcy. But the family was saved from absolute ruin by Modigliani's birth itself. An ancient law that decreed creditors could not seize the bed of a mother of a new-born child. So, when the bailiffs arrived as Eugenia went into labour; the family protected their most valuable assets by piling them on top of her.
Modigliani's Cultural Upbringing
Modigliani, or Dedo as his mother called him, grew up in a lively and stimulating environment. She taught him at home until he was 10 and introduced him to romantic and symbolist poets like Oscar Wilde, Baudelaire and Rimbaud. Through his aunt he learnt about the philosophy of Nietzsche. As a result, Modigliani developed a wide variety of cultural interests at a very young age. In fact, throughout his life Modigliani, would often chant poetry to friends.
But Modigliani was a spoilt and capricious child. This was partly because he was such a good-looking little boy and partly because of his fragile health. In the summer of 1895 he developed pleurisy followed two years later by a serious attack of typhoid.
Modigliani's Art Education
In 1898 Modigliani joined the art class of Guglielmo Micheli who subsequently nicknamed him "Superman" for his impressive drawing ability and his obsession with Nietzsche. Unfortunately, his studies came to an abrupt end in 1900 after an attack of tuberculosis aggravated by pleurisy. During his period of convalescence his mother took him to Naples, Amalfi, and Capri and later to Rome and Venice. He left Livorno in 1902 to study art in Florence where his lifelong passion for life drawing began at the 'Free School for Nude Studies'. Later in 1903 he enrolled at the Academy of Fine Arts in Venice. It was here that he first smoked Hashish and began exploring the seedier parts of life that Venice offered. His behaviour and his subsequent lack of study seemed to have more to do with his love of the radical philosophies of Nietzsche, rather than simple teenage rebellion or hedonism.
Modigliani leaves for Paris
In January 1906 Modigliani left Italy for Paris, determined to chance his luck as a portrait painter. After a few weeks of relative luxury in a comfortable hotel the money ran out. A nomadic existence followed. He moved from one lodging house to another. First in Le Bateau-Lavoir, a commune for penniless artists in Montmartre and then on to Montparnasse. During this time, he acquired the nickname Modi. This was a play on the French word 'maudit', meaning "cursed."
When first in Paris, he would sometimes introduce himself by saying, "I am Modigliani, the Jew." But he soon became very sensitive of his Jewish origins because he began to realise that despite having a spiritual and artistic affinity with many, mostly poor, stateless Jewish painters. His experience of growing up was very different to their experiences of ghetto life and anti-Semitism. But he soon shared the same insecurities many foreign artists experienced living in a city that did not readily welcome destitute artists, never mind Jewish ones. Coincidently, the first painting he sold in Paris in 1908 was titled, 'The Jewess'. He painted the female sitter as elegant, composed, and sophisticated, albeit a little cold and elusive.
During his early years in Paris Modigliani looked quite dapper often dressing in a chestnut corduroy suit with a brilliant red scarf and broad felt hat. He met Picasso but disliked his functional workmen's overalls. He felt were uncouth, not appropriate for a genius. But a couple of years after his arrival in Paris, his attitude changed. He became more bohemian. His appearance more dishevelled, and his studio fell into disarray. He even destroyed a lot of his earlier works, describing them as "childish baubles, done when I was a dirty bourgeois."
Modigliani's Painting Develops
In 1907 Modigliani's painting seemed rather old fashioned, being heavily influenced by post Impressionism and the work of Toulouse Lautrec. This was a period of self-discovery and experimentation. It was also a period of rejection, as he had sold very few paintings. But after seeing an exhibition of Cezanne's work, he was inspired by Cezanne's way of suggesting form and space through colour and his painting took a new direction.
But the lack of sales and small amount of money his mother sent him each month proved insufficient to support a life now spent increasingly in bars, brothels, and cafes. He drew obsessively. Sometimes the drawings became starting points for paintings, but more often were traded for goods or services when he was short of money.
The Influence of Drink and Drugs
Driven by financial hardship and the excessive use of hashish and alcohol, his behaviour became at times intolerable. He was once expelled from Dr. Alexandre's artists community for destroying other member's work. And was often thrown out of the café La Rotonda for drunkenness. Perhaps this was anticipated in a letter that he wrote to a friend in 1901 where he said, 'people like us have different rights from other people because we have different needs which puts us above their morality'.
In 1909 he returned to Livorno in a dishevelled state. A friend described him as having a head shaved like an escaped convict, wearing a miserable linen jacket, open shirt and trousers held up by string. His mother was so shocked at his appearance she bought him a complete new set of clothes.
Modigliani's meeting with Brancusi
Between 1909 and the outbreak of war in 1914 he produced few paintings, because of a new preoccupation with sculpture. Modigliani had been introduced to the sculptor Constantine Brancusi by Dr Alexandre in 1909 and the simple elegance of Brancusi's simplified forms made a strong impression on him.
During this period, he created a series of about twenty-five carved stone sculptures of abstracted female heads. He combined ideas from Africa, Egypt, Greek, and Gothic sculpture to create a quite unique style. However, given his financial difficulties, many wondered how Modigliani managed to afford the expensive limestone required to make his sculptures. It seems, like other sculptors at the time, he 'borrowed' limestone from building sites in Montparnasse, which was being renovated at the time.
Seven of his 'Heads' series were exhibited at the Salon d'Automne in Paris in 1912, which was a great honour for a young artist at the time. But eventually he had to abandon creating sculpture because the stone dust irritated his lungs, and his coughing fits exacerbated his childhood tuberculosis.
World War 1
When World War I broke out in 1914 he attempted to enlist in the army but was rejected because of his poor health. The same year Max Jacob introduced Modigliani to the art dealer Paul Guillaume He bought several paintings and agreed to promote his work. But Modigliani's earnings, remained limited so he continued his practice of trying to sell drawings door to door. Later that year he met the English poet Beatrice Hastings in Montparnasse. On their first meeting she described him as looking 'ugly, ferocious and greedy'. She changed her view by their second meeting to 'a pale and ravishing villain'. This was Modigliani's first sustained relationship, but it was far from ordinary. They were a feral couple often seen rampaging through the streets drunk or dancing on café tables. They matched each other in their ability to be awkward and to consume drugs and alcohol. His affair with Beatrice became violent, often deteriorating into fights and by 1915 Modigliani was dependent on drugs. Beatrice, unable to curb his excesses was an alcoholic. The following year the relationship ended.
This was a vulnerable period of his life. He was often ill and exploited by unscrupulous art speculators. Many of his friends were on the front lines in the First World War and the Parisian cafes were full of invalid soldiers and foreigners. Yet despite all of this, his portraits began to achieve a harmony, painted with empathy and emotion. This double portrait of Jacques Lipchitz and his wife, Berthe, illustrates his talent for revealing the inner life of his subjects. The portrait reveals subtle clues about their personalities despite the stylized mask-like way in which the faces are painted.
Zborowski Commissions Nude Paintings
Between 1916 and 1919 the art dealer Léopold Zborowski commissioned several nude paintings from Modigliani that provided him with some financial stability. He paid Modigliani a daily rate of between 15 and 20 francs, supplied models and materials, and allowed him to use his apartment as a studio. The works Modigliani produced during this period are amongst his most accomplished.
We can see here the models in the paintings appear draped in sheets, perched on chairs, reclining on sofas or beds. The models seem relatively anonymous. An emotional distance exists between the sitters and the viewer, yet there is little physical distance. The women dominate the picture space. They fill the picture frame their limbs often extending beyond the edges of the canvas. Their nudity is self-assured, confident and proud, and not cloaked in myth or allegory.
Modigliani meets Jeanne Hebuterne
In July 1917 Modigliani met Jeanne Hebuterne a 19-year-old student at the Academy Colarossi. They fell in love and Modigliani's friends hoped that the serious young woman would inspire him to curb his excesses. Unfortunately, she loved him with a blind adoration that demanded little in return. There was no fundamental change in his behaviour. Yet, Modigliani's portraits of his young lover suggest he did find a new sense of peace and serenity. His paintings of her are less stylized than his earlier works. Hebuterne's features, especially the almost sly, sideways gaze, in this portrait suggest a psychological clarity that communicates her inner character.
First one-man Show
In December 1917 Modigliani had his first and only one-man Show at the Berthe Weill gallery in Paris. To attract attention the art dealer had placed several of Modigliani's nude paintings in the window of the art gallery. Unfortunately, the gallery was opposite a police station. The story goes that the police equipped with special wartime powers, objected to what they regarded as an obscene display and closed the exhibition on the first day. It later reopened with the nude paintings removed from the window.
In April 1918 friends subsided a trip to the South of France for Modigliani and his friend the artist Soutine. It was there he rediscovered his admiration for Cezanne and produced his first landscape paintings since his student days. They were tightly composed compositions wildly at odds with the dramatic landscapes Soutine was painting.
Modigliani's Final Days
Towards the end of his life Modigliani became more and more suspicious of people and change. He often refused to allow his studio to be cleaned or disturbed. During the winter of 1919 he was often seen wandering the streets on cold nights in only his shirt sleeves, very drunk, abusive, and terribly emaciated. Modigliani's health began to deteriorate rapidly. By the turn of the year his alcohol-induced blackouts had become more frequent.
A few days before his death he collapsed in the studio that he shared with Jeanne Hebuterne. His friends found him laying prostrate on studio floor with Jeanne sat next to him looking absolutely terrified. They rushed him to a hospital, where he died on 24th of January 1920 of tubercular meningitis, exacerbated by the effects of alcohol and drugs. He was just 35 years old.
The Final Twist
But the sad story had a final twist. The day after Modigliani's death Jeanne Hebuterne who was eight months pregnant with Modigliani's second child, was taken to her parents' house to recover. The following day a totally inconsolable Hebuterne threw herself from the fifth story window. It was nearly a decade before the Hebuterne family agreed to Jeanne being reinterred in Père Lachaise Cemetery in Paris next to Modigliani. A single tombstone now marks both their graves and contains two epitaphs. His reads: "Struck down by death at the moment of glory" and hers: "Devoted companion to the extreme sacrifice".
A vast number of works by Modigliani are now lost. Much of the artist's early work was destroyed by the artist himself. He deemed it immature, many were abandoned during his frequent relocations, and others were given to lovers who didn't keep them. Artistic success and financial stability eluded Modigliani. But the work he did leave behind, today is not only highly sought after and much admired but is also very valuable.
Best Auction Price
The best price paid for a painting by Amedeo Modigliani was $157,000,000 for his 'Nu Couché, 1917,' sold at Sotheby's, New York in 2018.