Gustav Klimt
Born – 14 July 1862, Baumgarten, Vienna, Austria

Died – 6 February 1918, Vienna, Austria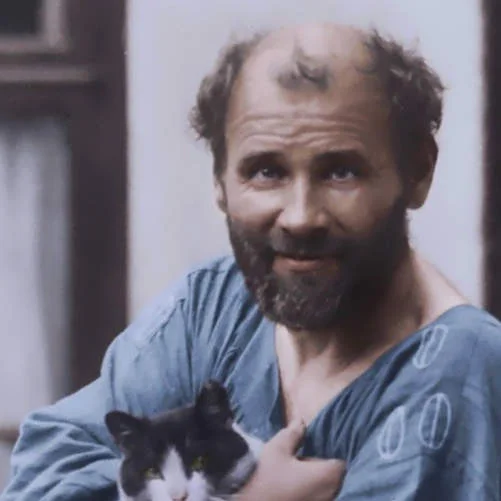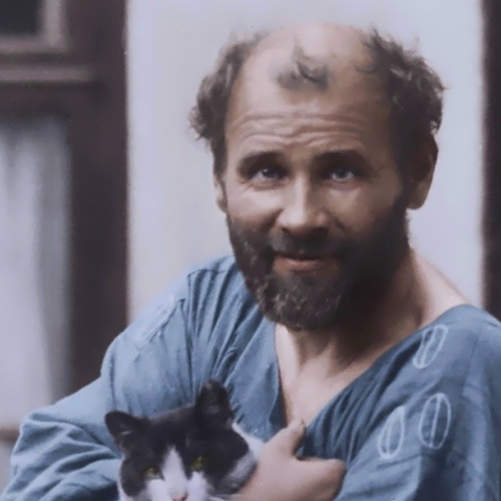 Gustav Klimt
Born – 14 July 1862, Baumgarten, Vienna, Austria
Died – 6 February 1918, Vienna, Austria
Austrian artist Gustav Klimt was a symbolist painter and one of the most prominent members of the Vienna Secession movement. Klimt's primary subject was the female body, and his paintings and murals are marked by a frank eroticism.
Early Life
In 1862 Gustav Klimt was born at Baumgarten near Vienna on the 14th of July, the 2nd of seven children. His father was engraver and Goldsmith from Bohemia and Gustav was the eldest of 7 children. It was an unusually talented family. His brother George followed his father's footsteps and became a goldsmith. Whilst his brother Ernest, also showed the same precocious talent for drawing and painting that Klimt himself displayed.
At the age of 14, in 1876 Gustav and his brother Ernst were sent to the newly established school of Applied Arts in Vienna. Over the next seven years, they learnt to master not only oil painting but mosaic and fresco techniques as well. In his spare time Klimt earned extra money by drawing portraits from photographs. This helped to perfect his ability to capture accurate likenesses of people.
Gustav Klimt's Artistic Ability Recognised Early
In fact, the drawing professor was so impressed with Klimt's ability, his brother Ernst and their friend and fellow student Franz Matsch, that he recommended the trio for a number of prestigious commissions. It is not surprising that Klimt was 17 when he found himself helping to design the pageant for Emperor Franz Josef's silver wedding celebrations. Gustav finished his training at the school of Applied Art in Vienna in 1883. Shortly afterwards he set up the Artist's Company together with Ernst and Franz Matsch. Success came quickly. It was not long before they were working on decorative projects, for wealthy owners of villas in Vienna.
The ultimate recognition of their abilities came when they were given the prestigious job of decorating the ceiling and staircases of the newly built Burgtheater in Vienna. The theme of the decoration was to be the history of art from ancient Greece to the Renaissance. It resulted in a quite remarkable series of portraits and images using a mixture of styles. They started work on the Burgtheater paintings in 1886 and finished them 2 years later. Shortly afterwards, Gustav Klimt was awarded the Golden Cross of Merit for his work on the project.
1890 saw Klimt complete one of his earliest portraits, that of Joseph Pembauer, the famous Viennese pianist. He combined naturalistic portraiture with a stylised decorative background. This combination of styles formed the foundation on which his future portraits would be based.
University Paintings
In 1892 Ernst and his father died and for a while Klimt produced very little. Yet in 1894 he and Matsch were asked by the Ministry of Education to produce a series of designs for the ceiling of the Great Hall at Vienna University. After a great deal of debate, it was agreed that Klimt should tackle three panels. The themes were philosophy, medicine and jurisprudence which represented three of the university's Faculties. It was a mammoth undertaking and something of an artistic and physical challenge for Klimt.
However, Klimt exhibited the first picture, 'philosophy' at the secession Exhibition in 1900. The critics had a field day accusing him of producing a painting that was chaotic, nonsensical and out of keeping with the intended setting, as well as being a completely different style to Matsch's work. The Ministry of Education eventually approved his ceiling paintings in 1903. Klimt was so offended by the outcry that he abandoned the scheme in 1905, denouncing overburdening censorship and protesting the lack of artistic freedom.
Battle for Artistic Freedom
His battle between artistic freedom and conservative attitudes to art first become public in 1897. Klimt left the Cooperative Society of Austrian artists for the newly founded Vienna Secession. This was a radical group of young artists who were against Vienna's inward-looking provincial view of art. They chose to promote more international trends in art and the breaking of barriers between fine and applied art. They published their ideas through their magazine Ver Sacrum. Gustav Klimt was soon elected as the Secession's first president. To Viennese Society, Klimt appeared to be part of the establishment, but privately he was completely the opposite. He was a passionate champion of individual and artistic freedom. A bohemian who was more at home wondering around his studio in his huge, blue monk's smock, than the suit adopted by many of the successful painters of his generation.
However, the scandal of the university paintings did not have a devastating effect upon Klimt's career. It's true he received no more official commissions, but there were plenty of private clients interested in his work. Many artistically inclined wives of Viennese industrialists, were drawn to his ability to paint portraits of beautiful women in elegantly languid and flattering poses. From this time onwards, portraits such as these, made Klimt a lot of money. Wealthy Society women seemed to love his unconventional and unorthodox approach to painting.
In 1902 the Leipzig sculptor Max Klinger arranged to exhibit a statue of Beethoven at the secession building in Vienna, which surprisingly was nicknamed the Golden Cabbage. As a tribute to Klinger, Klimt and his friends refurbished the entire secession building as a kind of Beethoven's temple in tribute to Klinger. Klimt's contribution was a frieze running along 3 walls of a room. It consisted of four main scenes suggested by Beethoven 9th choral symphony.
Meets Emilie Floge
Also, in 1902 he produced a portrait of Emilie Floge. This stunning image marks the beginning of a new phase in Klimt's art characterized by his use of large detailed decorative patterns combined with realistic depictions of faces and hands. Emilie Floge was the younger sister of Ernst's wife. She was a fashion designer who owned a fashion shop in Vienna. She became Klimt's companion for more than 25 years. Gustav was genuinely devoted to Emily and spent almost every summer for 20 years with her and her family at fashionable lakeside resorts. They never married or had children. It was during these times that Klimt produced many of his landscape paintings.
In 1905 he painted a portrait of the daughter of the wealthy industrialist Karl Wittgenstein who became one of Klimt's most important patrons. He made her face and hands seem extraordinary alive, contrasting with the dress and shawl. These are painted in quietly restrained and subtle white on white fashion. She didn't like the portrait, thinking it made her look too innocent, timid and girlish.
During this time, he allowed his garden to become totally overgrown. He enjoyed many hours painting pictures of it from very close range. He also continued to paint portraits.
Stoclet Murals
In 1904 Gustav Klimt was asked to produce draft drawings for a frieze of three mosaics for a room in the newly built Palais Stoclet in Brussels. He completed the work in 1911. The frieze is of indeterminate content and therefore open to a variety of interpretations. In fact Klimt himself rarely mentioned the piece all. Although, once he did describe the single woman in the picture, as simply as a dancer. This period also coincides with what is usually regarded as Klimt's golden phase. Simply because a great abundance of gold leaf appears in many of his paintings.
The Golden Phase
Perhaps, the most spectacular painting Klimt produced during his golden phase, and possibly his most famous, was The Kiss painted when he was 45 years old. It is a wonderful balance between the glittering geometric ornamentation and the bed of flowers. The emotional force of the two figures is expressed through their compact kneeling pose and powerful embrace. Surely, The Kiss represents the ultimate in human fulfilment.
Klimt was now at the height of his powers and his popularity. He regularly contributed work to many international exhibitions. In 1911 he contributed 8 paintings to a major art exhibition in Rome and was awarded the first prize for his painting Death and Life.
During winters he would work in his studio painting portraits or working on commissions. Most summers would be spent painting landscapes around Attersee in the Saltzkammergut, a lakes and alpine region near Salzburg. In 1913 he spent July and August around Lake Garda, in Italy painting two paintings of small lakeside villages as though from a boat.
Klimt commanded remarkably high prices for his portraits, which was just as well because he painted very slowly and often made numerous changes. What was annoying from his patrons' point of view, was he would work on number of paintings at the same time. In 1917 Klimt became an honorary member of the Academy of Fine Arts in Vienna. Maybe, this was just compensation as the Ministry of Education had just rejected his professorship for the fourth time.
His Legacy
On the 11th January 1918 Gustav Klimt suffered a stroke in his flat in Vienna which paralysed his right side. Hopes of a recovery faded when he contracted pneumonia. He died on the 6th of February aged just 55. A few months before the complete collapse of the Austro-Hungarian empire and the most exciting period in Viennese cultural history.
Klimt was a lifelong bachelor who had countless liaisons during his lifetime, usually with his models. He is rumoured to have fathered more than a dozen children along the way. Emilie Floge was his inspiration and for almost half his life, his most enduring relationship.
Perhaps Klimt himself best summed up his life's work when he said, "I have never painted a self-portrait. I am less interested in myself as a subject for painting than I am in other people, above all women."