Ferdinand Hodler
Born – 14 March, 1853, Bern, Switzerland
Died – 19 May, 1918, Geneva, Switzerland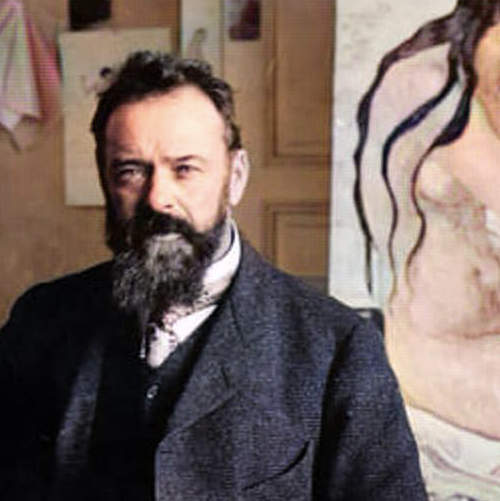 Ferdinand Hodler
Born – 14 March, 1853, Bern, Switzerland
Died – 19 May, 1918, Geneva, Switzerland
Ferdinand Hodler was one of the best-known Swiss painters of the late 19th /early 20th century. His early works were  genre paintings, portraits, landscapes in a realistic style. His later work was influenced by symbolism from which he developed, what he called "parallelism".
Early Life
Ferdinand Holder was born in Bern in Switzerland in 1853, the eldest of 6 children. Tuberculosis killed his father and his 2 younger brothers by the time he was 8 years old. As a result, his mother later remarried, marrying Gottlieb Schüpach, a decorative painter who had 5 children from a previous marriage. After the birth of additional children, Hodler's family eventually numbered 13. The family was poor so the young Hodler was put to work helping his stepfather to paint commercial signs. Hodler's mother died when he was 13, resulting in Hodler being sent to the town of Thun to work as an apprentice to a local landscape painter, called Ferdinand Sommer. From him, he learnt the craft of copying prints of Alpine landscapes to create paintings. He subsequently sold the paintings in shops for the tourist trade.
Influences
In 1871 aged 18, Hodler travelled to Geneva to study under painter Barthelemy Menn. Travelling to Basel in 1875 he studied the paintings of Hans Holbein and in the Prado in Madrid, the works of Titian Poussin and Velazquez. At this time his painting consisted mainly of Swiss landscapes, figure compositions and portraits. Painted in a very vigorous realistic style, his work was much influenced by the French Realist painter, Gustave Courbet. His paintings were also influenced by his own spiritual crises. Plus his desire to flee from industrialized modern society, to seek to find refuge in an more innocent idealised world.
New Directions
However, from 1890 his work evolved, absorbing influences from many genre, particularly symbolism and Art Nouveau. His new style of painting emphasized the symmetry and rhythm that he believed formed the basis of human society. They also had a mystical, dreamlike quality often depicting an escape from the bourgeois cares of modern life. His painting Night, exhibited in the Paris Salon in 1890, emphasized this new style..
Check out our other artist videos
Hodler filled his canvases with monumental and simplified flat figures. Often displaying ritualised gestures, and composed with rhythmic and repetitive lines, he described his style as Parallelism. He also painted several large-scale historical paintings often with patriotic Swiss themes. For example, in 1897 he was commissioned to paint frescoes for the weapons room at the Swiss National Museum in Zurich. His ideas and style proved controversial and it was three years before he was allowed to create the frescoes.
1900 saw his first recognition when he was awarded a gold medal at the Paris World's Fair, for three paintings, Night, Eurhythmy and Day.
His Great Love
Hodler was married twice, but in 1908 he met Valentine Gode-Darel, who became his mistress. He was passionately in love with her, unfortunately in 1913 she was diagnosed with cancer. Hodler spent many hours by her bedside drawing, resulting in a remarkable series of paintings documenting her gradual decline. Hodler was devastated by her death. The next year he was isolated, occupying himself with painting 20 introspective self-portraits.
In 1914, he condemned German atrocities conducted by the shelling of Rheims in France. In retaliation German museums withdrew Hodler's work from their exhibitions.
The Final Flourish
1917 saw his health deteriorate and at one point he considered suicide. However, although bedridden, he still managed to paint several views of Geneva from his balcony in the months before his death. Ferdinand Hodler died on the 19th of May 1918 in Geneva. He was relatively unknown outside of Switzerland, Germany and Austria until quite recently. Most of Hodler's work is in public collections in Switzerland. However, there are some of his major paintings in the Musee d'Orsay in Paris and in the Metropolitan Museum of Art in New York.
His Legacy
His legacy is that his work is seen as embodying the Swiss federal identity. Perhaps because, many of his best-known paintings feature characters doing everyday jobs, rather than depictions of dignitaries. This is best summed up by the fact that in 1908 the Swiss National Bank commissioned Hodler to create two designs for their new paper currency. Controversially, he chose not to depict the images of famous men, but those of a simple wood cutter and a reaper instead. Both notes eventually appeared in circulation in 1911.