Dorothea Tanning
Born – 25 August 1910 – Galesburg, Illinois, USA

Died – 31 January 2011 – New York City, USA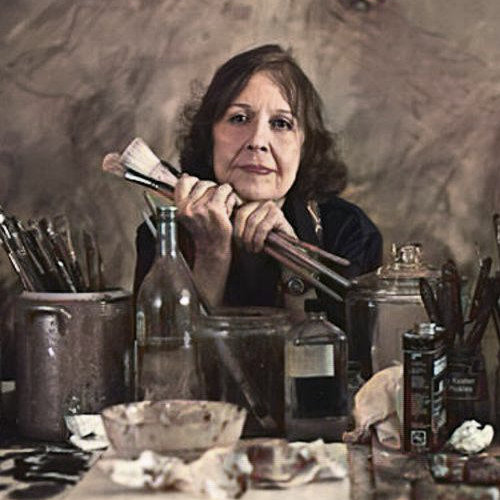 Dorothea Tanning
Born – 25 August 1910 – Galesburg, Illinois, USA
Died – 31 January 2011 – New York City, USA
American artist Dorothea Tanning had a seven decade career that covered surrealist painting, abstract painting before pioneering soft sculpture made from fabric. She was also an accomplished writer and poet
Dorothea Tanning's Early Life
Dorothea Tanning was the daughter of Swedish émigré parents, and was born on 25 August 1910 in Galesburg, Illinois, USA. At the age of sixteen 'Dottie', as she was then known, became a library assistant at the Galesburg Public Library. She was deeply influenced by the books she read and considered the idea of becoming a writer. In 1928 she studied at Knox College, a local liberal arts institution. In 1930 moved to Chicago where she enrolled at the Chicago Academy of Art but left 3 weeks later. She was largely self-taught as an artist.
The move to New York
In 1935 Dorothea Tanning moved to New York, where until the early 1940s, she worked as a freelance illustrator, creating advertisement designs for department stores. In December 1936 she visited the exhibition Fantastic Art, Dada, Surrealism at the Museum of Modern Art in New York. She saw works by René Magritte, Max Ernst, Meret Oppenheim and Marcel Duchamp and many others. The paintings had a profound effect on her. 'Here is the infinitely faceted world I must have been waiting for.' She recalled later.
Tanning travelled to Paris in August 1939 but with the country on the brink of war, found the city empty of the artists she wanted to meet, so she returned to New York. In December 1942 she met Max Ernst who was organising, with his wife Peggy Guggenheim, an exhibition of 31 female artists at her Art of this Century Gallery in New York. Ernst selected Dorothea Tanning's painting Birthday for the exhibition, as well as suggesting the work's title.
There is a strong latent eroticism in the painting. It is less to do with the bare breasts, but more to do with writhing twigs which on closer inspection contained figures and of course, the uncertain invitation of the open doors. At her feet stands an extraordinary composite creature which only adds to the air of unease.
The irrational is ever present in Tanning's surrealist work and this painting is disturbing because like any dreamscape it is at once strange and yet familiar. Dorothea Tanning's work often combines a sinister sexuality with a fairy-tale childlike sensibility. It is reminiscent of childhood fantasies and nightmares.
Marriage to Max Ernst
Dorothea Tanning and Max Ernst, played chess together, fell in love and married in October 1946 and subsequently moved to Sedona, Arizona, USA. Later, whilst building their house there, Tanning wrote Abyss, a gothic-flavoured, desert adventure short story that became the novel 'Chasm: A Weekend' first published in 1949. Many artists and writers visited Ernst and Tanning's secluded home including Marcel Duchamp, Roland Penrose, Lee Miller, and Dylan Thomas. They subsequently moved to France in 1949, first to Paris and then to Provence where they stayed until Max Ernst died in 1976.
The period in France was very productive for Dorothea Tanning. Her first Paris exhibition was held in 1954 and was crucial in establishing her reputation on the Parisian arts scene. She needed to establish herself as an artist because 'For me, an artist living in the shadow of a great man,' she said, 'it was somehow crucial.'
Tanning's move to Abstraction
Around 1955 Tanning's paintings moved away from meticulously rendered figurative dreamscapes and began to increasingly employ confident gestural brushstrokes and movement as well as a more immersive use of figures and space. This newfound interest in movement came in the wake of her work as a costume and stage designer for the ballets of the Georgian American choreographer George Balanchine.
Tanning's first retrospective exhibition took place in Belgium in 1967 and during the late 1960s she moved from drawing, design and painting to three-dimensional sculptural works created from soft textiles and found items. During the 1970s and 80s Tanning travelled artistically in two directions at once. On the one hand she was creating abstract paintings and on the other she returned to surrealist vision with her pioneering soft sculptures, she had started to sew in 1969.
Soft Sculpture
The high point of her soft sculptural work is Chambre 202, Hôtel du Pavot, it is an installation of sculpted figures made in 1970-3. Like many of her works, such as her 1942 painting Children's Games, it reflects Tanning's childhood. Here we see two bulging decapitated nudes climbing out of the walls, one with a foot just poised to emerge. On the floor there are a series of tweedy bodies embracing items of furniture. One lies back on a table, whilst another burrows into a chair.
The installation is in many ways an update of the surrealist world of the 1930's, with models and dolls used to create a different level of desire, and anxiety. She said she enjoyed making the installation commenting that "the brutal slashing of fabrics was an incomparable pleasure in itself".
Her Final Years
When Max Ernst died in 1976, aged 84, Dorothea Tanning was bereft. 'There is no light in the studio, nothing moves anymore,' she said. She concentrated on her painting, but in 1980 she moved back to New York. She published her memoir Birthday in 1986, and in 1994 established the Wallace Stevens Award for Poetry, which is awarded annually by the American Academy of Poets. She created her last known paintings in 1998 but she continued to write, publishing her expanded memoir Between Lives: An Artist and Her World in 2001. Her second collection of poetry, Coming to That: Poems, appeared in 2011 at the age of 100.
The artist Dorothea Tanning died in New York City on 21 January 2012, aged 101.
Best Auction Price
The best auction price paid for a painting by Dorothea Tanning was $1,440,000 for 'Le Mal Oublié', sold at Christie's New York in 2022.